Can Cary Attar make lightning strike thrice with his new Fielding's Rooster? We go inside to find out for our first look review.
Many consider The Woodlands to be the land of restaurant chains, but in some cases, that's not such a bad thing. This upscale Houston suburb has served as the launching point for some outstanding restaurant groups, such as Hubbell & Hudson and the Fielding's Culinary Group.
Consider the restaurants of the Fielding's Group, each of which has won local and regional recognition. Founded by Cary Attar and Chef Edel Goncalves, the Fielding's restaurants delight Woodlands residents with well conceived dishes featuring locally sourced ingredients and lots of in-house preparations.
Rooster is the third establishment in this growing restaurant family. We were invited to preview the restaurant (beginning dinner service this Sunday, with lunch to follow) by Fielding's.
Step Inside
Rooster follows the successful Fielding's playbook, but with some unique twists of its own. The space is warm and inviting, located in a strip center about a mile west of Fielding's Wood Grill. The spacious dining room features the signature Fielding's iPad bar, and an expansive bar hugs the east side of the space.
As you walk in, you'll notice an unusual feature – a large woodburning rotisserie located right beside the hostess station. The alluring aroma of burning wood and roasting chicken whets your appetite. Will Rooster deliver?
We sat down, and in short order, a cornucopia of dishes appeared at the table. Being a pre-opening preview, we expected some bobbles, but the Fielding's staff was a well-oiled machine, executing well in both the front of the house and the back.
The Food
The cuisine at Rooster is based primarily around chicken. And it's no ordinary chicken; but rather all natural Rock Cornish chicken from D'Artagnan from small Amish farms in Indiana.
First up was the southern fried chicken. It was brined and fried in a thick homestyle crust.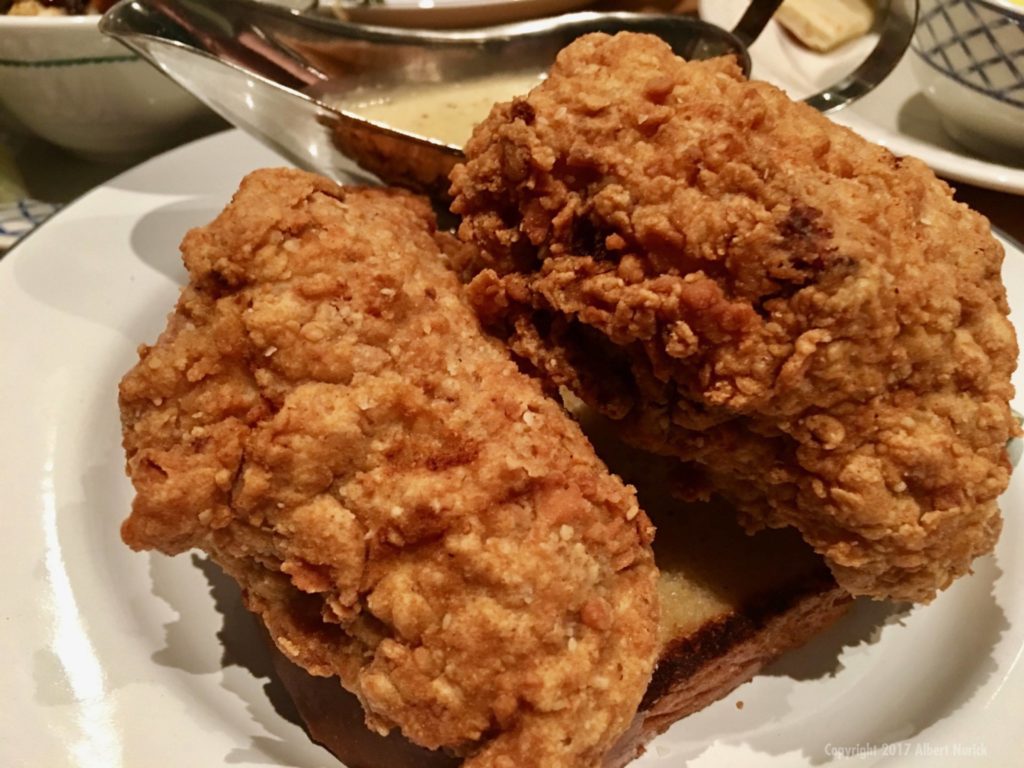 The chicken was gently seasoned and moist, with a nice crunchy crust. It is an upscale take on traditional fried chicken, and is perfect to satisfy those looking for something comfortable.
Next up was the chicken and waffle. A boneless chicken breast is sandwiched between cornmeal waffles, and topped with bacon chunks and a drizzling of clover honey and brown butter.
Here, the Amish chicken picked up on the sweeter profile of the honey and butter, and the soft cornmeal waffle added more to the breakfast feel, though this is a dish that works at any time of the day.
The next dish was our favorite. Here, the Amish chicken was clearly in the middle of Rumshpringa, and ready to party.
Roasted on the flaming rotisserie and seasoned with South African peri peri peppers, the wonderfully moist, tender chicken was bursting with flavor, including some well placed and integrated heat.
Rooster is built around chicken, but there are some interesting non-chicken dishes as well. We were particularly taken by the Brussels sprouts, served with a pad Thai glaze.
These Brussels were superb, the tangy Thai flavor adding zing to the earthy roasted veggie. Easily one of the best renditions of this popular vegetable in the Houston area, we'd come back just to enjoy this again.
The Bar
As anyone who's been in a Fielding's establishment knows, the food isn't the only focal point. The bar is well worth a visit, with expertly crafted cocktails, a well curated wine list, and a selected of craft beers. The attention to detail at Rooster extends to the bar, where a custom infuser was running top shelf bourbon through fresh peaches.
We've seen liquor infusions before, of course, but rarely have we watched it happen in such a stylish manner.
The cocktails we sampled were on point. Minnie, the skilled mixologist we'd met before at another Fielding's location, had excellent suggestions. First up was the Frozen Calypso, combining RumHaven coconut water rum, Aperol, passionfruit, and citrus.
The drink was bright and refreshing, perfect for a warm Texas night.
Next up was one of Minnie's on-the-rocks (or in this case, one perfectly cubed rock) concoction, the Triple B Smash. Starting with Fielding's own blend of Woodford Reserve bourbon, the bar combines blueberry, basil and bitters into a rich, flavorful adult beverage.
Deep and complex, it was a great choice to sip while relaxing with family or friends.
Another Winner for Fielding's
We really enjoyed this first look at Fielding's Rooster. We were impressed to see the signature in-house preparations and attention to detail in full swing, and look forward to returning and sampling more of the upscale comfort food that Chef Edel has crafted. Biscuit Hushpuppies?!? Yes, please!
Cary, thank you and your team for your gracious hospitality.