An ambitious new Italian restaurant has arrived in the Northwest Woodlands. Does it deliver? We visit Zanti Cucina Italiana.
When we moved to the Woodlands almost 15 years ago, quality Italian food was very hard to find. But the past few years have seen savvy restaurateurs step in to rectify this situation. Newer establishments like Papa Amadeus, Nona's, and Sorriso have greatly improved the outlook for Woodlands-area foodies who are in search of great Italian food.
Entering this crowded market is Zanti, located in the growing northwest corner of the Woodlands. Owned by three brothers, the organization brings serious food and beverage chops, with a background running several high-end hotels in Mexico. How does this expertise translate into the challenging Houston area restaurant market? We attended a soft opening event to find out.
Upon approaching the restaurant, it's obvious that no expense was spared. This stand-alone building, in the new center at Research Forest and Egypt, impresses with its presence.
Stepping inside reveals a comfortable, upscale setting. The open kitchen is dominated by a large copper-wrapped oven, which draws your attention magnetically. We're fans of open kitchens; they immediately convey that the restaurant is proud of their back-of-the-house operation, and has nothing to hide.
A glassed in display case in front of the kitchen highlights a variety of beautiful pastas, all of which are made in-house. Housemade pasta has become a trend here in the Woodlands, and one that we heartily support. (If an Italian kitchen wants to be taken seriously, it's not going to serve pasta dumped out of a box.)
The kitchen staff was moving quickly and efficiently; clearly there has been a good deal of training going on. During our visit, the entire staff impressed us with their positive attitudes and alert responses to minor issues.
Now let's get down to the food. We have high standards for Italian food. For years, we'd gladly drive into Houston when we wanted a great Italian meal; the difference between a top kitchen and the typical suburban experience was impossible to miss. How does Zanti's food measure up?
Perusing the appetizer list, we started with their Beef Carpaccio. This is an easy dish to get wrong, and we had high hopes for the plate that quickly appeared.
Beautifully planed slices of raw beef were drizzled with olive oil, and tinged with a lemon mustard aoli. Freshly shaved parmesan, arugula, fried capers, and cherry heirloom tomatoes completed the dish. The result was outstanding; the flavor of the beef was brought forward, rather than overpowered, and the interplay of flavors from the vegetables and sauce provided a harmonious backbeat.
Oven Roasted Cheese Meatballs were presented next. Nestled cozily in an iron skillet, these petite meatballs were topped with parmesan and surrounds by a hearty housemate pomodoro sauce.
The pomodoro is the star of this dish; the flavors sing brightly, with the minced San Marzano tomatoes and high quality olive oil presented proudly center stage, like a great Italian tenor.
Even though it was warm outside, we were craving something hearty. The Osso Buco pasta grabbed our attention. Chunks braised of veal were intertwined with tricolor pappardelle pasta.
The rich flavors of this traditional Lombardy dish was exactly what we were looking for. The veal shank was braised to outstanding tenderness; the al dente pappardelle provided a toothsome textural counterpoint. Hints of saffron were noted in the layered flavors. If you're craving a hearty dish; you won't go wrong here.
Ever since the closing of Tony Vallone's Ciao Bello, we've been craving their airy, light, seasonal stuffed pastas. We were intrigued by Zanti's Truffle and Cheese ravioli; the description looked very promising.
These small, jewel-like ravioli are stuffed with a melange of taleggio, fontina, and burrata, and bathed gently in a parmesan-alfredo sauce with hints of truffle. The result is light, enticing, and delicious. The creamy cheeses harmonize with the buttery alfredo, and the light application of truffle provides a wonderful counternote. We'll be back for this pasta.
At this point, we were stuffed, but the helpful manager said that there was one other pasta that we should experience. We've learned never to turn down these sorts of suggestions, and we were wowed by what appeared. Tricolor ravioli, but not in the usual sense. Each raviolo was composed of three distinct sections; spinach and beet had been used to tint each tiny pillow into a representation of the Italian flag. The handwork required to create these flawless little pasta flags is staggering.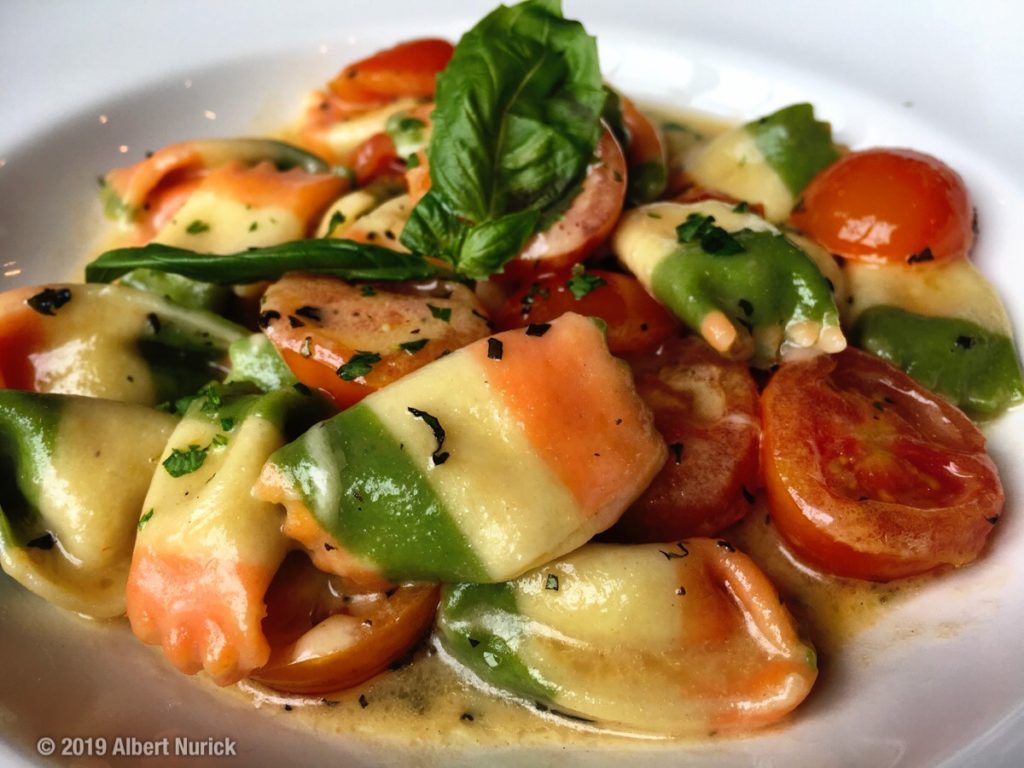 The flavors were outstanding as well. Buttery cream sauce complemented the fontina/tallegio filling, and the fresh green basil and heirloom red tomatoes were both delicious and coordinated with the pasta's color scheme. If ever there was an Instagrammable pasta dish… this is it.
Service during our visit was friendly and professional without being overbearing. The expected hiccups during a soft opening were noticeable by their absence; the establishment is already running very smoothly. The experience of the management team is obvious; their training program is already paying dividends this early.
To say we were impressed with Zanti would be to put in mildly. The owners' passion for great Italian food shines through on every plate. Zanti would be a notable Italian restaurant in Houston; it's an utterly unexpected gem out in the northern suburbs. The Woodlands is becoming a genuine destination for great Italian cuisine; a few years ago, we never thought we'd hear ourselves saying that.
Modern Italian in a chic, upscale setting
Italian and Pizza | Research West
Full Bar, Happy Hour, Live Music, Private Room, and Upscale
10000 Research Forest Drive | The Woodlands 77354
281-259-1300 | Map | Website | Review | Details
$$ and $$$