Johnny's Italian Steakhouse is a hidden gem in a beautiful hotel tucked away off I-45. We sample their Houston Restaurant Weeks dinner offerings. #HRW2020
2020 marks the first year that Johnny's Italian Steakhouse has participated in Houston Restaurant Weeks. That's always a big challenge for a restaurant… what approach will they choose? Chef Brittany Briden, the Executive Chef at Johnny's, decided to offer Woodlands area diners a curated Greatest Hits menu of the dishes at Johnny's that keep customers coming back for more.
As long-time fans of this hidden gem, we applaud her approach. Here's what we sampled.
For the first course, we started with Chef Brittany's classic bruschetta. We love her take; the ingredients are fresh and plentiful, the flavors balanced, and the portion is satisfying. We could be very happy nibbling on this dish and sipping cocktails all night.
The other first course option we sampled is the Supper Club Spinach Salad. Leaves of spinach are combined with with sun-dried tomatoes, sweet toasted pecans, crispy prosciutto, hard cooked egg and Johnny's delicious hot bacon dressing. This is a well executed classic steak house salad, and it whetted our appetite for what was to  come.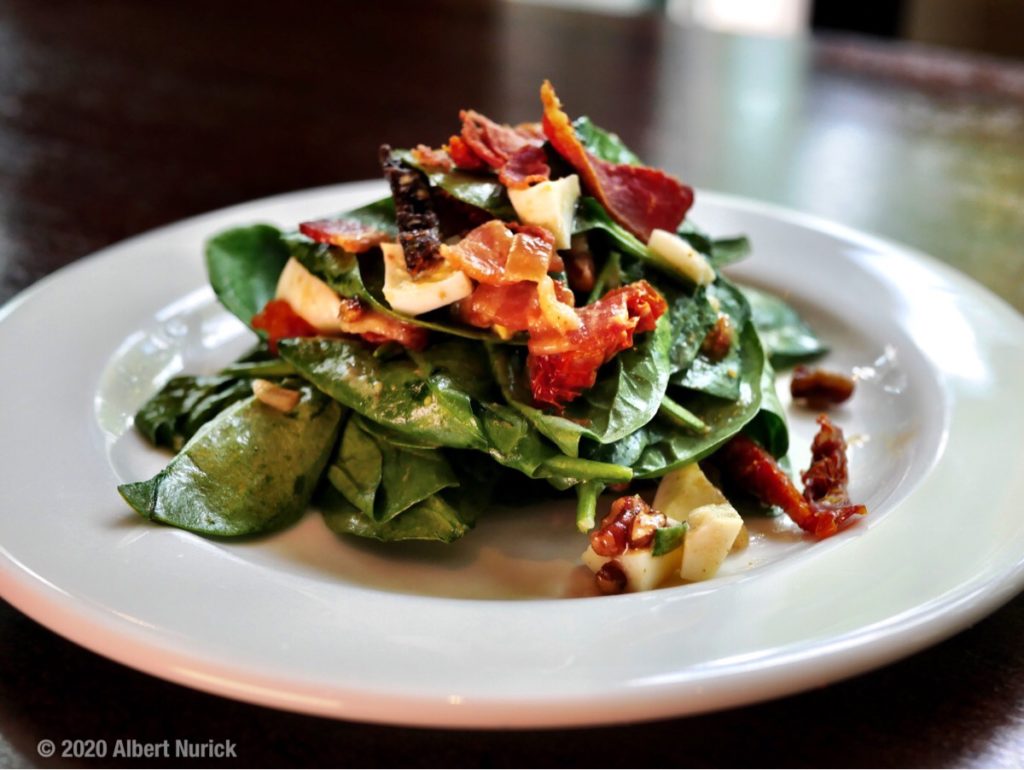 Moving on to the main course, we followed our golden rule of dining: When in doubt, focus on what the restaurant is known for. Johnny's is a steak house, and their steaks are among our very favorite affordable steaks in the area. We selected an option we'd never tried before; Johnny's Filet Medalian Trio.
Three individual filets mignon are topped three ways: With horseradish, Gorgonzola and Parmesan crust, and a rich demi-glace. The filets were incredibly tender; no steak knife was required (although one was provided, of course). Fliet mignon has a mild flavor, and Chef Brittany used them as a savory backdrop for her varied and well executed toppings. A huge baked potato was the perfect accompaniment, and it came stuffed with all the necessary accouterments.
Johnny's is also a very good Italian restaurant, so we had to sample one of their signature dishes: Chanel No. 5. If you're a fan of rich, indulgent dishes, look no further. Beautifully al dente cheese ravioli is topped with lobster, shrimp, artichokes, prosciutto, and a lush garlic cream sauce. This is a dish to eat slowly and savor.
Somehow, we still had room for dessert, and Johnny's was ready for us. First, something we'd never sampled: A lemon cake with raspberries. Simple and very tasty, and deceptively light, which wasn't a bad thing at all.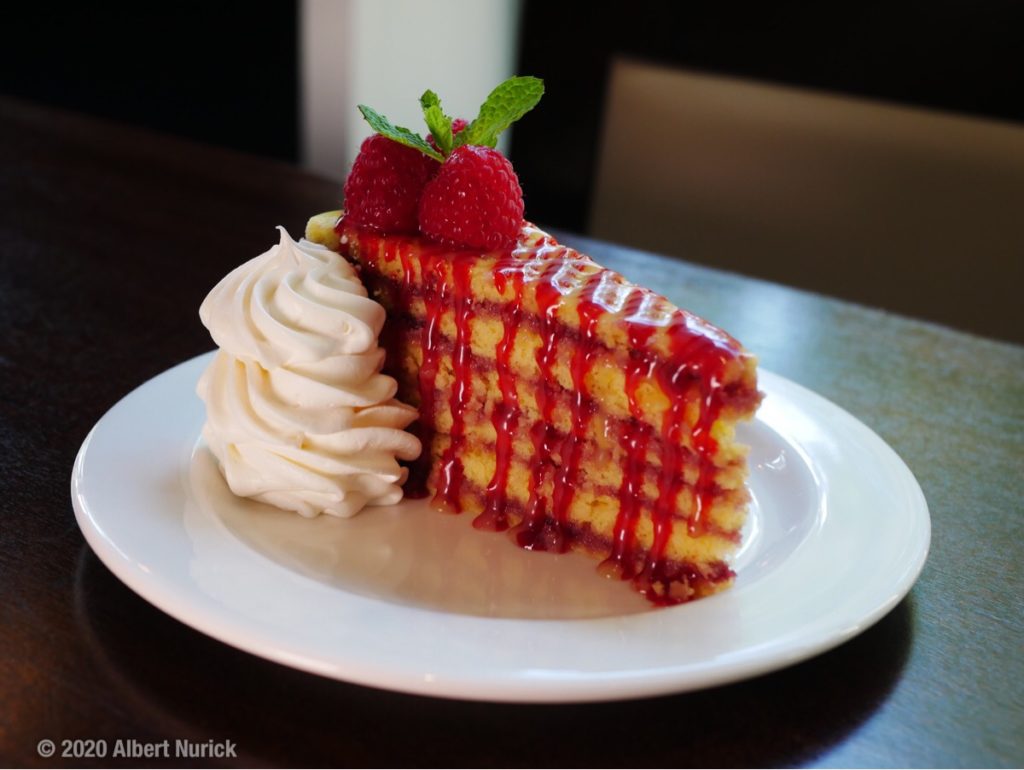 Next up was our favorite dessert at Johnny's: Banana cheesecake. A lush New York-style cheesecake is infused with fresh banana, and topped with more banana, brûléed in this case. It is sinfully rich, utterly indulgent, and delicious. We recommend this dessert without reservation. And fortunately, if you need a nap afterwards, the hotel above Johnny's is a very nice place to rest.
We think Johnny's Italian Steakhouse did an outstanding job with its inaugural Houston Restaurant Week menu. And unlike some HRW menus around town, if you discover something you love, you can come back and enjoy it again and again. We plan to, and I'll bet you will, too.
Steaks and Italian in a surprisingly fashionable hideaway
Italian and Steaks | I-45 Corridor
Catering, Full Bar, Happy Hour, HRW2021, HRW2022, HRW2023, Live Music, Outdoor Dining, Private Room, Romantic, and Upscale
19333 David Memorial Dr. | Shenandoah 77385
(Inside the Crown Plaza Shenandoah)
346-331-2060 | Map | Website | Review | Details
$$ and $$$