We have long been fans of Peli Peli, Houston's homegrown South African restaurant group. But the COVID years have not been kind to the restaurant business, and Peli Peli is one of the establishments that suffered the most. Originally an upscale destination restaurant, they were forced to pivot to a more casual concept during the pandemic, and they never really found their groove amidst staffing difficulties, a slow restaurant market, and the challenge of running a high end restaurant when lots of customers were out of work. Sadly, Peli Peli was forced to shut their doors.
But Chef Ryan Stewart was not going to be held back. This talented South African chef also operated a chain of very successful restaurants in Africa, and he saw an opportunity. Enter Mozambik, his South African restaurant group that's built to thrive with a family-friendly concept that serves delicious cuisine similar to what Houstonians had grown to love at Peli Peli. The group swept in, scooped up much of the talented team at Peli Peli, and brought its successful South African concept to the Woodlands.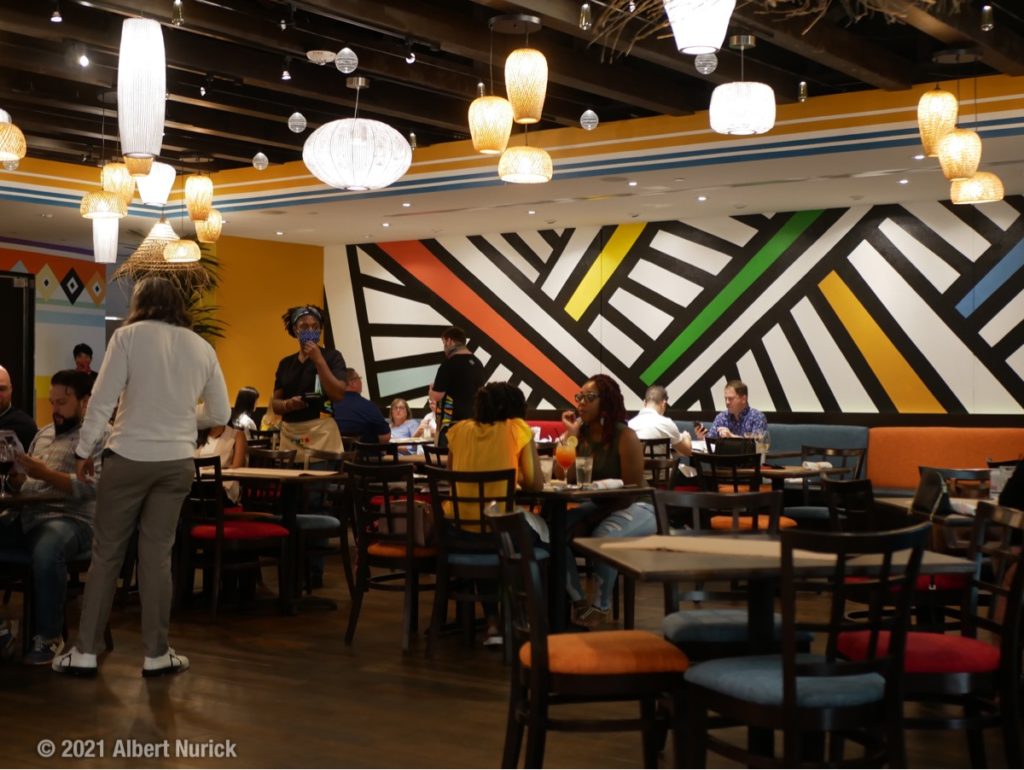 Gone is the fancy Peli Peli setting. In its place is Mozambik, a more casual, family-friendly eatery with a fun atmosphere filled with bright colors, funky cool art, and an energetic staff that turns a meal into a vacation in South Africa. Ryan Stewart's concept has been wildly successful across the Atlantic. How will it translate to Texas?
We attended an invitation-only trial run, and we have to say that we were impressed with both the concept and the execution. Chef Ryan is an experienced restaurant operator, and it shows. His team was working together like a group that had been serving guests for years. The front of the house team hadn't worked together before, but they handled the crowded room with aplomb, taking care of tables and interacting with guests like seasoned pros.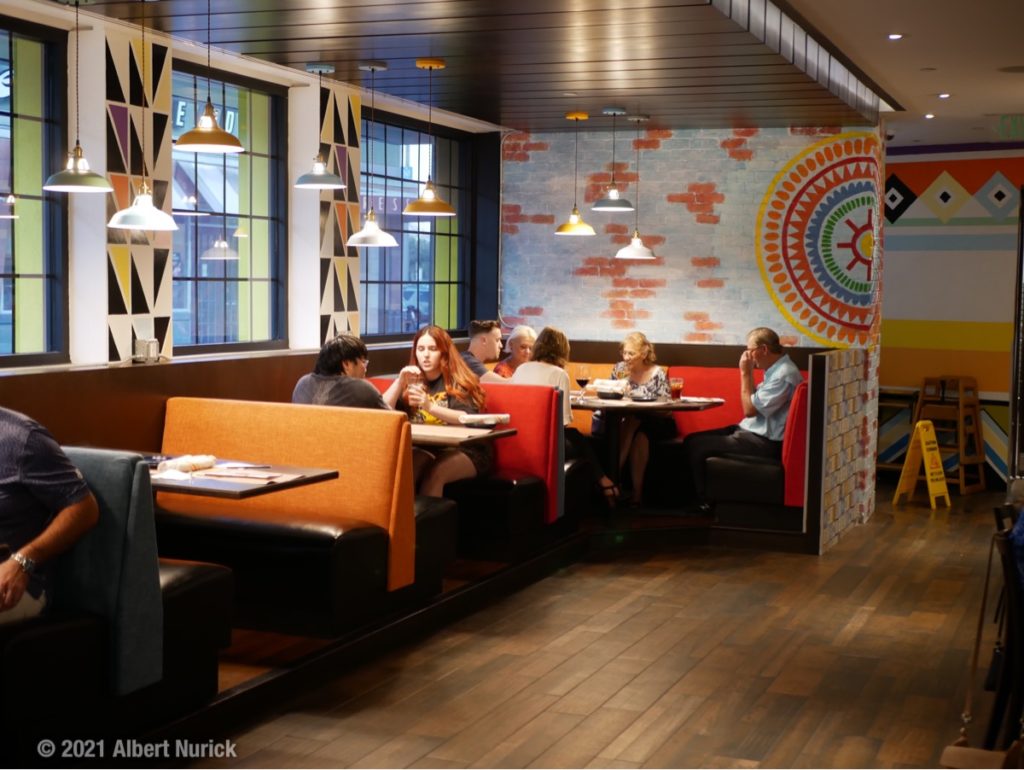 The back of the house, helmed by Chef Macey Maples, cranked out course after course to a full house of hungry Texans. We were big fans of the cuisine at Peli Peli; how would the Mozambik menu compare?
The first thing we noticed was the much more reasonable price points. Ribeye steak under $30? A variety of seafood starting under $20? Wings, burgers, and sandwiches at $15 or less? The value equation at Mozambik is impressive right out of the box, and it immediately positioned the restaurant as one that patrons can frequent without blowing their budget. Peli Peli was definitely a special occasion spot; Mozambik is one you can put into your regular rotation.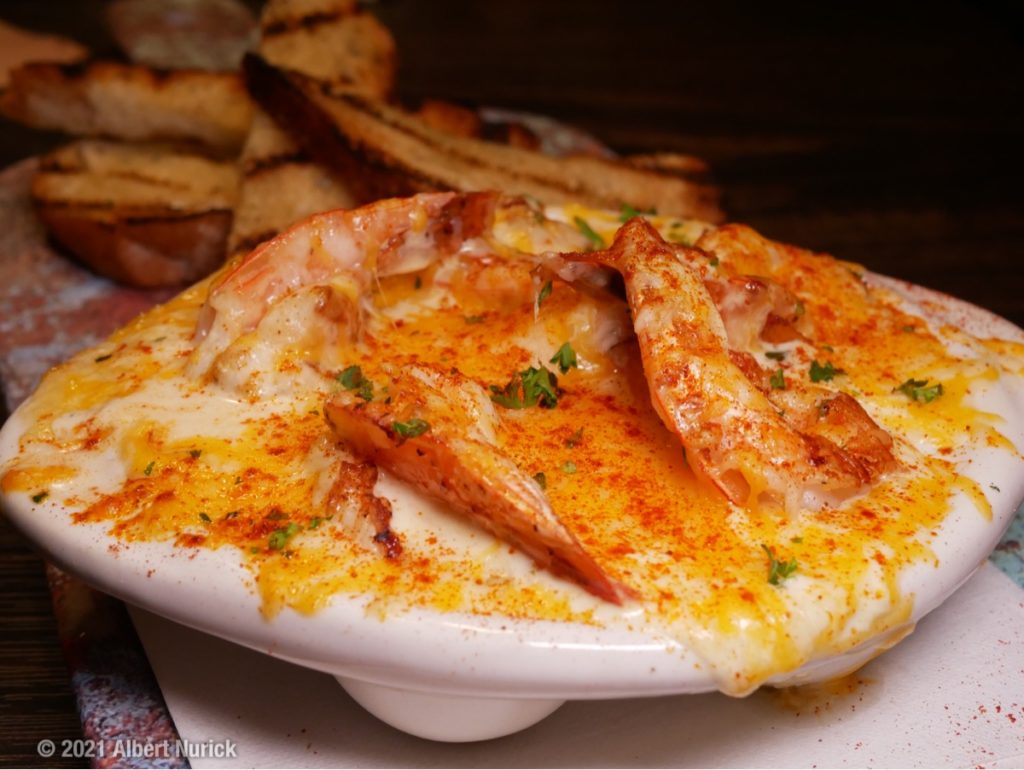 Not only are the signature entrees priced affordably, but Mozambik offers a second menu, the Shebeen pub menu, filled with burgers, sandwiches, and other pub fare positioned at enticing prices; most entrees are around the $15 price point. This makes for a very attractive lunch offering which flows into happy hour with substantial food… not just bar snacks. We expect the happy hour scene at Mozambik to be a hot one.
From the Shebeen menu, we sampled the Crispy Fried Chicken Sandwich, and found it to be a delicious spin on this very popular item. Chef Ryan raises eyebrows with a touch of Mozambik's excellent Sticky Toffee sauce on the golden brown fried chicken breast, and the surprise hint of sweetness plays off the tangy Peppadew Remoulade and the savory fried chicken. We're already craving another one.
Going beyond the casual Shebeen menu, Mozambik brings a slate of more ambitious items to sample. And sample we did.
We're happy to report that Houston's favorite South African dish, the Espetada, is well represented at Mozambik. . Essentially a vertical shish kebab with your choice of protein (or veggies), the Espetada is a signature South African dish that is loved by just about everyone who tries it. Mozambik's version (featuring filet mignon, ribeye, pork belly, chicken, seafood, or veggies) is both delicious and very well priced.
Your protein is marinated, cooked with a savory sauce to the desired temperature (medium rare for the ribeye, thank you), then served dripping with garlic butter over your choice of sides. It's a labor intensive, high-end preparation, and the Mozambik staff has it down pat.
We tasted a variety of other dishes at this private event, and were impressed by the flavors, quality, and uniformly excellent execution from the new kitchen team. Every dish was well conceived, delicious, and beautifully plated.
What about dessert, you ask? We're happy to report that our favorite South African dessert, the addictive Sticky Toffee Pudding, is present and accounted for. More mini bundt cake than pudding, this cravable date spice cake finished with a drizzle of Sticky Toffee sauce is a necessary ending to a meal at Mozambik. The other desserts impressed as well, from the lush Sticky Toffee Cheesecake to the indulgent Chocolate Lekker Tarts.
We've merely scratched the surface of the new menu at Mozambik. We're anxious to dive deep into the South African curries, the enticing pub fare (the wings and the burger are speaking to us) and the wide variety of seafood, fresh from the ocean.
All in all, we were quite impressed with the clockwork operation that Ryan Stewart and his team have put together at Mozambik. We think they're going to be a great addition to the dining scene in the Woodlands; one we plan to visit regularly. Go check it out, but please leave some Sticky Toffee Pudding for us.
South African Cuisine in a family-friendly setting
Seafood, South African, and Steaks | Woodlands Mall
Full Bar, Good Desserts, Happy Hour, On the Radar, Outdoor Dining, and Private Room
1201 Lake Woodlands Dr., Suite 304 | The Woodlands 77380
On the mall ring road, south side
| Map | Website | Review | Details
$$ and $$$