Fall has arrived in Texas, and with it the new menu at Black Walnut Cafe. Since acclaimed local chef Austin Simmons took over the menu creation at Black Walnut, we've been looking forward to every new menu that drops. Chef Austin has raised an already solid culinary program to new heights; we go in to check out the latest offerings for Fall 2021.
New Starters
Chef Austin has a reputation for presenting great appetizers and other starters. As we've learned to expect, his newest offerings exceeded our expectations.
Cinderella Pumpkin Soup is creamy, light, and a perfect option for a cool fall day. Toasted almonds and a drizzle of sour cream complete this gently sweet soup. This is definitely a seasonal option; don't wait too long before you sample it for yourself.
Candied Bacon brings the sweet, cravable heat. Thick cut bacon, brown sugar, and flakes of red chili and garlic come together in a supremely satisfying manner. Serving bacon as a starter almost feels like cheating, but the result is definitely worth it.
Smoked Salmon Dip combines whipped cream cheese, dill, garlic, and sunflower seeds to balance the rich saltiness of the smoked salmon. It's a sophisticated spin on the iconic breakfast combination; we couldn't help wanting a bagel to schmear it on.
Signature Cornbread was a big surprise. Made from fine-grained cornmeal, the texture was more like cake, although the flavor was firmly from the kitchens of the deep south. Honey whipped butter is a decadent accoutrement, while candied jalepeños bring a touch of heat.
New Pastas
We love the pastas at Black Walnut; we feel the restaurant has a legitimate claim as destination for families craving Italian food… especially if someone isn't onboard with a taste of Italy.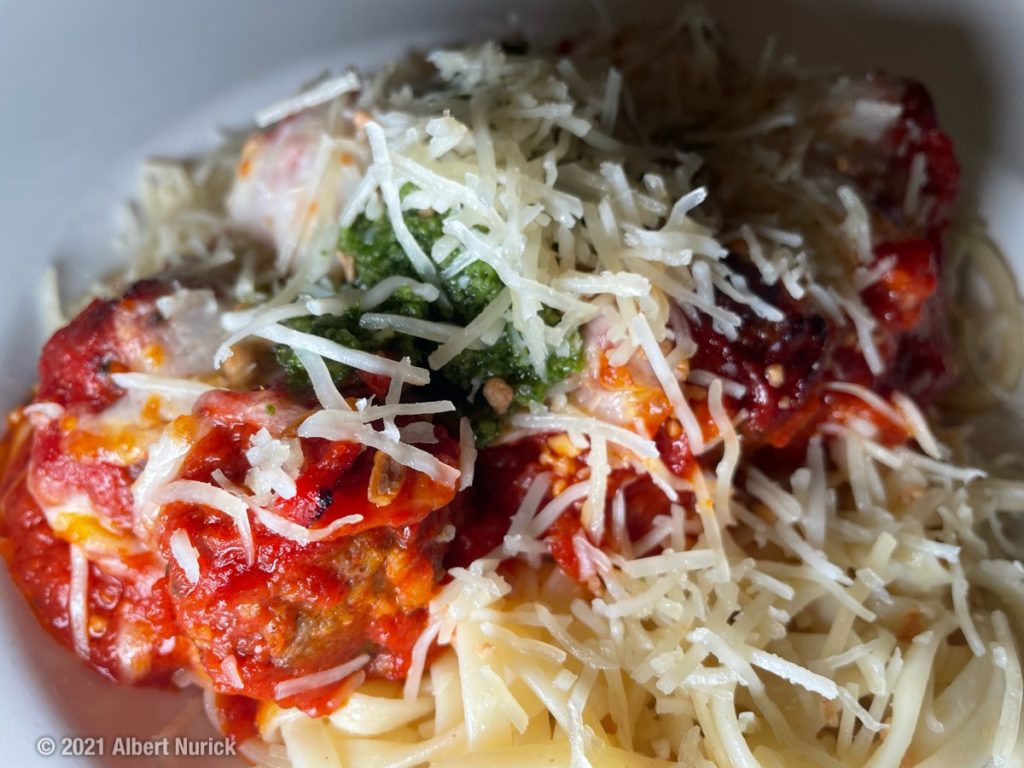 Pasta & Meatballs continues the Black Walnut tradition of hitting well above its weight class on pasta. Combine Chef Austin's south Texas antelope and wagyu meatballs with linguine, a solid tomato sauce and fresh pesto, and the result is a dish that any Italian restaurant in town would feature on its menu.
Sweet Treats
We were full after trying these new savory options, but we were willing to sacrifice our comfort for our readers. Ah, the things we do for y'all.
Personal Pecan Pie is a perfect small bite to finish your meal. Dense, tasty filling that's heavy on pecans and light on filler creates a pie that's just like grandma used to make… only smaller.
Caramel Pumpkin Spice Shake is decadence in a cold mug. Rich, creamy, and literally overflowing the glass mug, this 'grammable treat will leave you full, happy, and craving another.
Personal Pumpkin Pie is another small delight. Superb housemade pumpkin puree filling is skillfully spiced and topped with fresh whipped cream. The result is one of the best pumpkin pies we've sampled, but in a personal size.
A broad array of modern comfort food in a sleek setting
American (New), American (Traditional), Burgers, Sandwiches, and Tacos | Outside the Bubble: Conroe and Research East
Brunch, Full Bar, Good Desserts, Happy Hour, HRW2022, HRW2023, Outdoor Dining, and Private Room
9000 New Trails Drive | The Woodlands 77381
Also at the Conroe Airport
281-362-1678 | Map | Website | Details
$$