Post-Christmas brunch at Black Walnut Cafe. We find ourselves returning to Black Walnut over and over; the food, the service, and the overall experience impresses us, especially at the very attractive price point.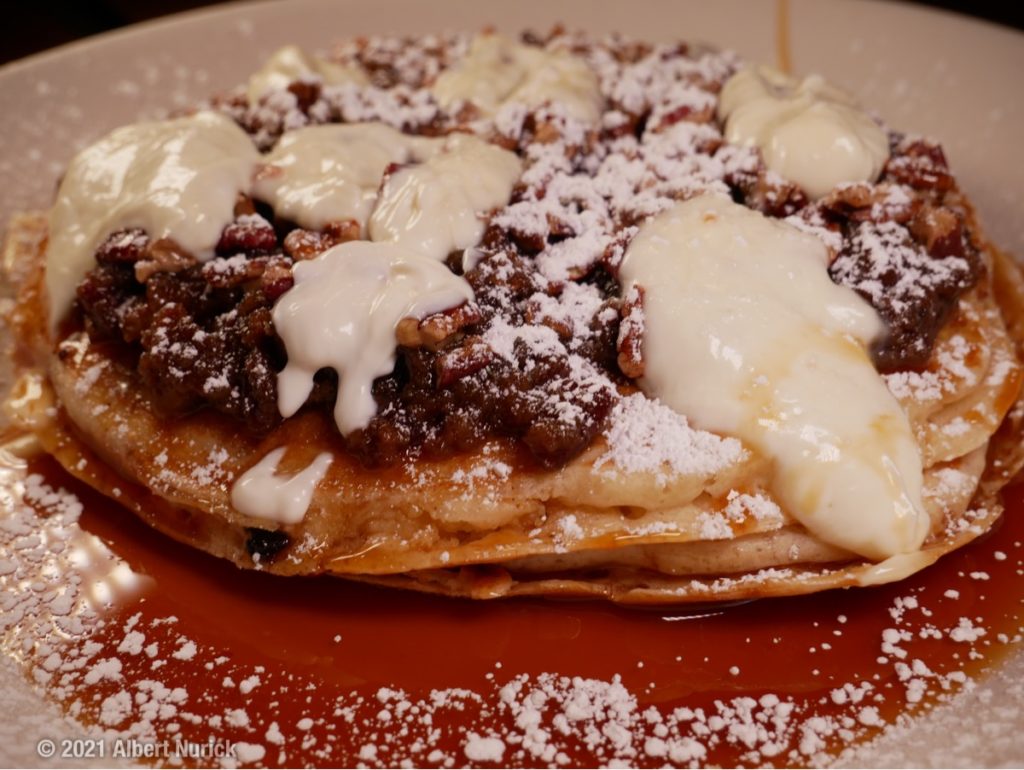 Texas Pecan Pie Pancakes are the Lone Star State on a plate; TX Bourbon sauce is a decadent drizzle that shines brightly in this special treat. Light, fluffy pancakes, Texas pecans and pecan pie filling (!) complete this dish. Only through the end of December… don't miss this.
Lobster Benedict is luxuriously complex. Seasoned lobster, peppered bacon, and a lemony cayenne-spiked hollandaise complete a delicious bite. This is a unique and delicious dish, and it disappeared from the menu when lobster prices went through the roof. The geniuses at Black Walnut purchasing have sourced at a fair price, and customers are the beneficiaries.
Chorizo Tacos are a south-of-the-border comfort. Mild chorizo is generously combined with scrambled eggs, cheddar, and pico, and the result is one of the best (and biggest) breakfast tacos around. One is plenty for a nice breakfast; two will satisfy even the hungriest appetite. And you get two in the order.
Breakfast Croissant Sandwich is classic goodness on a plate. The devil is in the details, and GM Curt and his team sweat the details. Chef Austin Simmons continues to elevate the food at Black Walnut. He and Cisco Marquez have elevated an already good restaurant to become one of the best.
A broad array of modern comfort food in a sleek setting
American, Burgers, and Sandwiches | Outside the Bubble: Conroe and Research East
Brunch, Full Bar, Good Desserts, Happy Hour, Outdoor Dining, and Private Room
9000 New Trails Drive | The Woodlands 77381
Also at the Conroe Airport
281-362-1678 | Map | Website | Details
$$