Sixty Vines, the wine bar and restaurant that specializes in bringing wine culture to the neighborhood, has come to the Woodlands. Taking the anchor location on the west end of Market Street Square, Sixty Vines has created a large, welcoming space that will appeal to wine lovers of all ages.
Sixty Vines opens to the public on Monday, January 23.
Meet the CEO and GM
We recently attended their soft opening, sampled some food and beverages, and spoke with CEO Jeff Carcara and General Manager Jose Perez. They explained the concepts behind Sixty Vines, and talked about the steps the organization is taking to be a positive member of the Woodlands community.
The Food
But what about the food? We sampled several dishes during this soft opening event, and found a lot to like. (Click or tap any image for to enlarge.)
Sixty Vines has a build-your-own approach to their Charcuterie Board, and we approve. A nice selection of locally-sourced meats and cheeses is available to choose from. You can make a board as simple or as elaborate as you wish.
Their spin on the classic Caesar Salad featured artfully arranged romaine lettuce leaves, dressed with a very nicely balanced traditional Caesar dressing. Sixty Vines makes it extra by adding radicchio and other subtle twists; it's slightly outside the box, but still very satisfying to lovers of a classic Caesar.
From their variety of pizzas we chose an intriguing Shrimp and Smoked Bacon Pizza. The white pizza's first bite is brightened with a zing of lemon, and a dusting of red pepper gives some heat to the finish. A beautiful modified Neapolitan crust and deft use of toppings creates a craveable pizza that we can't wait to order again.
We saved the best for last. Sixty Vines has a spectacular Pork Chop on the menu, and by all accounts it should not be missed. Fortunately, we had an expert on hand to share her opinion: Ayden, North Carolina native (and TWTX editor) Susan Harris. Here is Susan's impression of the pork chop.
Beverages
Of course Sixty Vines has a great selection of wines. Their approach is unique; they have sixty varieties on tap. This approach brings several benefits (as CEO Jeff Carcara explained in the first video.) We wanted to venture outside their wheelhouse and try their cocktails.
One immediately caught our eye: The Centerpiece Old Fashion, a sharable Old Fashioned for two. This Old Fashioned goes well beyond the pale; it is infused with herbs and botanicals from star anise to rosemary, and the result is bold and full of flavor. Presentation is elaborate; it comes in a vessel reminiscent of a ship's porthole, filled with the amber beverage and the botanicals that flavor it.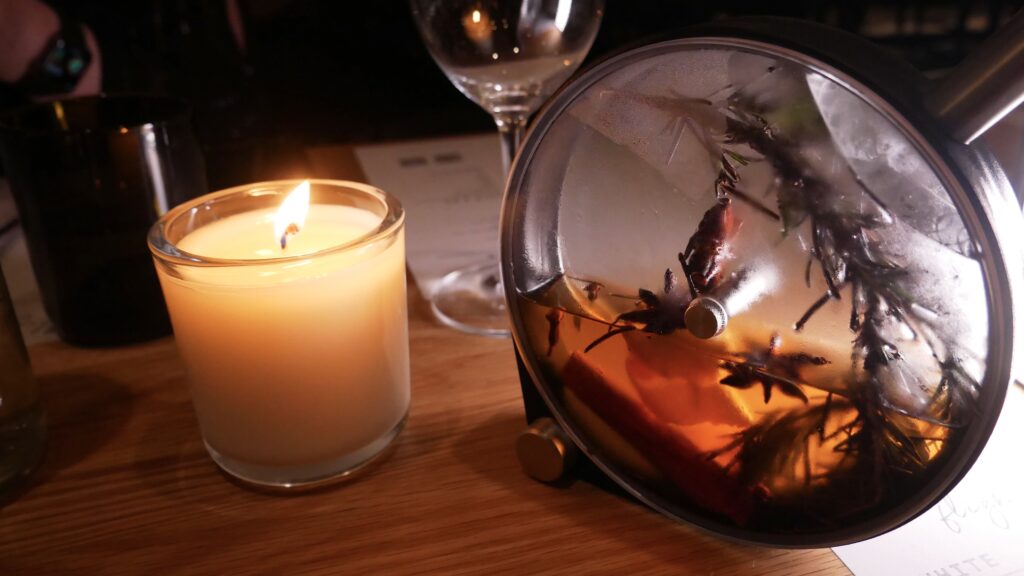 Service
Our server, Dylan, did a yeoman's job introducing this new restaurant to us. His mastery of the menu was impressive, his wit added a delightful bit of mirth to our meal, and his suggestions were 10/10. If Dylan is indicative of the rest of the staff, Sixty Vines has done a masterful job of hiring and training.
Conclusion
We entered Sixty Vines expecting a fairly run-of-the-mill wine bar experience. We left with an impression that went far beyond. From the innovative, well executed cuisine to the warm, professional service to the beautifully renovated space, Sixty Vines is a fantastic addition to the dining scene in the Woodlands. We look forward to returning and exploring.
Unique wines and innovative cuisine in an expansive, energetic space
American (New), Charcuterie, and Pizza | Market Street
Brunch, Full Bar, Happy Hour, On the Radar, Private Room, and Upscale
9595 Six Pines Dr | The Woodlands 77380
On the square in Market Street
| Map | Website | Review | Details
$$ and $$$