Xalisko opens to the public on Saturday, February 11, 2023.
We recently got a preview of Xalisko, the hotly anticipated new restaurant featuring the cuisine of Western Mexico. We attended their Friends and Family pre-opening run-through, where the staff got to hone their skills serving the assembled guests. This is our review of the experience.
Xalisko is the new Mexican restaurant from Chef Beatriz Martines. Chef Beatriz is a serious talent with impeccable credentials. The short version: From her early days as a school lunch lady she followed her dream, attended culinary school, catered, was discovered by celebrity chef Aquiles Chavez, became his sous, had the opportunity to apprentice at at El Celler de Can Roca, in Girona, Spain (one of the finest restaurants in the world, run by Joan and Jordi Roca). At Can Roca she met visiting Houston chef (and James Beard Award winner) Hugo Ortega who immediately offered her a position. She rose in Hugo's organization to the position of Corporate Chef, responsible for menu development and training at all of his award-winning concepts.
Xalisko's mission is to serve authentic Mexican food of the highest quality with a modern twist. The menu is a culinary tour of Mexico, focused on the Pacific Coast (Nayarit, Jalisco, Colima and Michoacan.) An adventurous spirits and wine program is part of the concept.
The Setting
Xalisko is a beautifully designed restaurant that differs from what you might expect. The finish out on the restaurant is impressive; it has the feel of a elite restaurant in Mexico City; somehow you're transported there from the location adjacent to the Woodlands mall.
The details evoke the culture of Mexico and pay respect to the traditions. We were particularly impressed by the corn chandeliers and the numerous small figurines. A prominent wall featuring embellished bull skulls brings a powerful energy to the room.
(Tap or click on any photo to enlarge.)
The Food
For this run-through, we sampled several of the exciting new dishes that will appear on the Xalisko dinner menu.
We were blown away by the Pulpo es Salsa de Chorizo — Tender, smoky, perfectly grilled octopus received a gentle char, and was accented by tomato chorizo and balanced with rich, earthy aromatics. Confit potato is a masterful textural counterpoint. We don't love octopus, but we'd order this dish over and over again.
The show stopper is something we've never experienced before: The Mexico City classic Tacos al Pastor served via a personal trompo. Lushly marinated strips of pork tenderloin are accented by Chef Beatriz's adobo, achiote, and garlic marinade, then grilled and perched between onion and pineapple. Skillfully sliced tableside and served on the housemade tortillas made from heirloom corn, we challenge you to find a better taco anywhere.
The hearty Pansita de Puerco presents a substantial slab of crispy pork belly, resting on a sauce of mirasol pepper and chicharron, served with roasted cipollini onion and clay pot beans, dressed with a tangy salad.
(Tap or click on any photo to enlarge)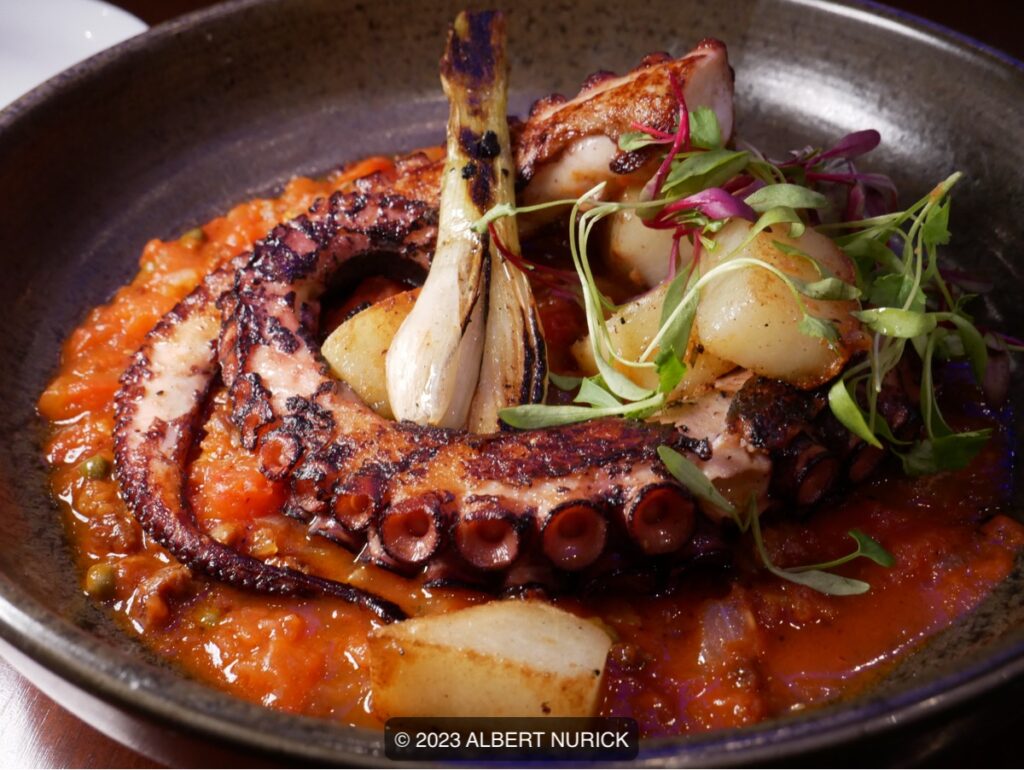 The presentation of the Tamal en Elote is nothing short of stunning. The sweet corn tamal is pressed into the form of an ear of corn; a refined presentation. The flavors are sweet, elegant, light, with a silky smooth texture. A pool of corn cream adds subtle depth and complexity. If you've never had sweet corn tamales, you are in for a treat; if you have, you're also in for a treat.
We sampled two desserts: A lovely Coconut Tres Leches that adds layers of coconut to the moist, creamy cake, and a classic Flan that is rich, dense, and perhaps the best rendition of this classic that we've tasted.
The cuisine that is coming from this brand new kitchen showcases both Chef Beatriz's impressive talents and her formidable experience. We came in with high expectations, and they were handily exceeded by her thoughtful recipes and impressive execution..
The Event
The event was well attended; there wasn't an empty seat in the house. The Xalisko team did a remarkable job taking care of the assembled guests, including such notables as Tracy Vaught and Chef Hugo Ortega (Hugo's, Xochi, Backstreet Cafe, Prego, Urbe, and others) and Chef Thomas Bille (Belly of the Beast). It's a tremendous sign of respect to have the executive chef's former employer (and mentor) attend an event like this, Tracy Vaught expressed nothing but support and admiration for Chef Beatriz and this new venture. As always, a class act.
We spoke with several of the assembled guests, and all were impressed with the atmosphere, the service, and most of all the cuisine.
We snuck into the kitchen and observed the kitchen team in action. We were impressed by the speed and precision of their execution; clearly Chef Beatriz is adept at training and running a kitchen staff.
(Tap or click on any photo to enlarge)
We attend a lot of pre-opening events, and it's rare to come across one that ran so smoothly. Every restaurant encounters bumps in the startup process, but after tonight's runthough, we are confident that Xalisko is going to thrill guests from day one. We can't wait to return.
Destination Mexican Dining from an accomplished team
Mexican | Woodlands Mall
Catering, Family-Run Small Business, Full Bar, Good Desserts, Happy Hour, HRW2023, On the Radar, Private Room, Romantic, and Upscale
1335 Lake Woodlands Dr | The Woodlands 77380
281-323-4092 | Map | Review | Details
$$$