There's a unique, family-run pizza parlor located on FM2978 near the Woodlands Parkway intersection. Called Flippin' Pizza, it's technically a franchise from the east coast (it's the only one in Texas). But to us, it feels much more like an independent pizza spot.
Flippin' Pizza is owned and operated by Sweta Bharodia; she's there pretty much every day. In her words:
"Hello, My name is Sweta, I am the owner of Flippin' Pizza restaurant. I have done my Master's in Business Administration, with my work industry being Accounting and Finance. Coming from a business family, I always wanted to do something on my own, run my own business. My business search stopped after I found the Flippin' Pizza franchise, in Texas, USA. Hence I decided to move to the USA from Canada to start on a new venture. 
"My store, Flippin' Pizza, Magnolia/The Woodlands is a privately owned and operated franchise. I invest 100% of my time and efforts into my business in order to provide quality food and service to my customers. I am always looking for new ways to improve my menu and service. I always welcome suggestions and ideas from my loyal customers.
"Our Pizza is better for a reason. We make fresh dough in store, it has No oil, No sugar, made with NY style filtered water & topped with fresh ingredients. Our pizzas are Hand tossed and baked in a stone oven. We use 100% whole milk mozzarella cheese, we also have vegan cheese and vegan sauce options and we also have gluten free crust available. Try our side dishes, always baked, never fried. Come in for dine-in/takeout or go online or call us to place a takeout or delivery."
We sampled her pizza recently, and were pleasantly surprised.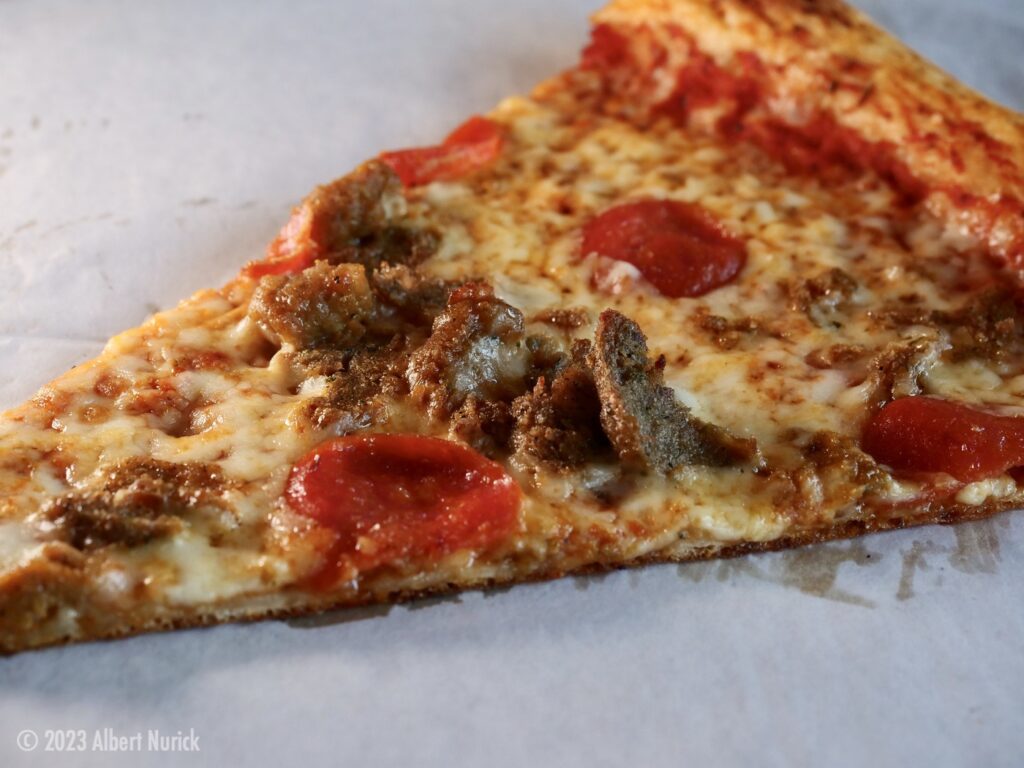 We tried several of their different pizzas, and found a lot to like. Their traditional offerings were quite good; a nice, New York-style thin crust as the base, with just enough sauce, quality cheese, and a smattering of traditional toppings.
Where things got particularly interesting was going beyond traditional pizza. Sweta has expanded the Flippin' Pizza offerings beyond the typical, with impressive results. Her Chicken Tikka Pizza brings the flavors of the subcontinent to pizza, and it's successful; the rich tikka masala serves as an excellent base for the tender chunks of chicken and sauce.
The Calzone is huge (and we had the small!) and stuffed with toppings… er, fillings. Beautifully golden brown crust, cheese with a very nice pull. It can be made with your choice of toppings.
The final surprise is the gluten friendly Cauliflower Crust option. We were surprised by how good this crust is; Sweta and her team have figured out how to cook it perfectly, and the result is an excellent pizza that will please anyone who likes a thin, cracker-style crust. Highly recommended.
We were impressed by Flippin' Pizza and the work Sweta Bharodia has done to take it beyond the ordinary. If you love pizza, there's a great option hidden in the very back of the Woodlands. Check 'em out.
Traditional and creative pizzas in the back of the Woodlands
Pizza | Woodlands Parkway West
Delivery by Restaurant, Family-Run Small Business, Good for Kids, and Good for Vegetarians
30340 FM2978 | Magnolia 77354
346-706-3547 | Map | Website | Details
$ and $$