Raising the bar for dining in the Woodlands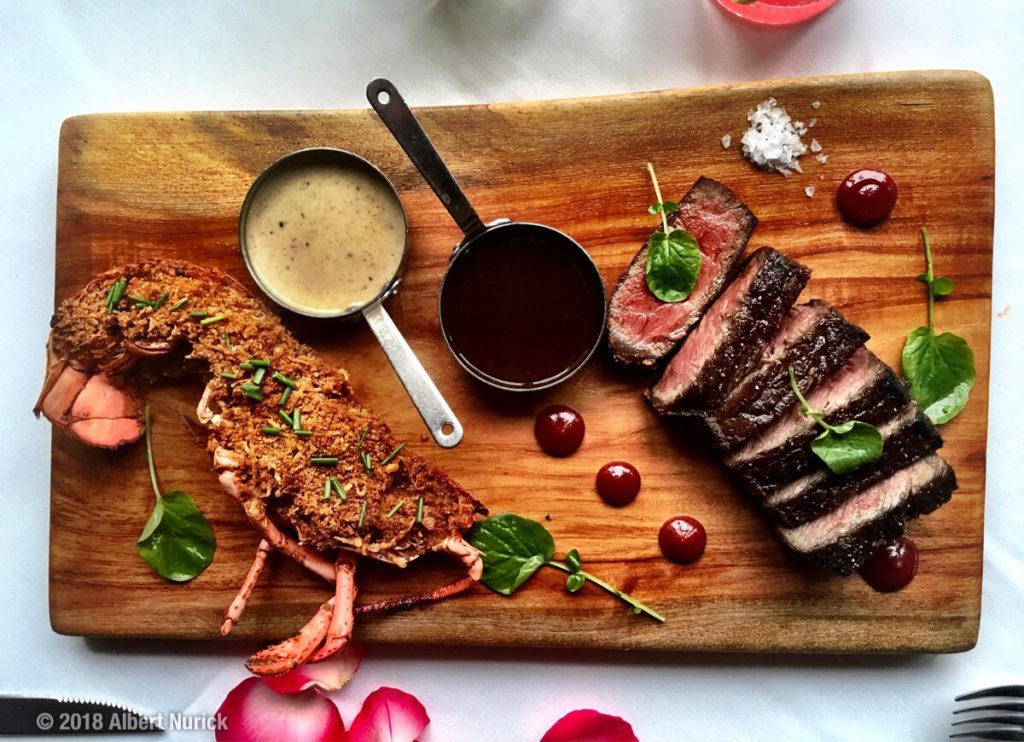 American (New), Burgers, Seafood, and Steaks | $$$ and $$$$
Awards
🌟🌟🌟🌟 — Among the best restaurants in Texas.
🥇 Best American (New)
🥇 Best Burger
🥇
Best Happy Hour
🥇 Best Seafood
🥇 Best Steak
Capsule Review
Chef-driven restaurants are rare in The Woodlands, but Chef Austin Simmons demonstrates how successful they can be. Formerly known as Hubbell & Hudson Bistro, TRIS features innovative cuisine, and everything from the outstanding burgers to the most elaborate entree shows the kind of attention to detail that is the hallmark of a great restaurant.
Not only does Tris butcher their own beef, but they've created their own hybrid breed of cattle (Gyulais, a wagyu/charolais hybrid) that meets the chef's exacting standards.. Chef Austin has the uncanny knack of combining diverse and unique ingredients into dishes that surprise and delight, while maintaining the integrity of the cuisine.
Steaks are a strength; from USDA prime to Texas wagyu to their own Gyulais herd to Japanese A5 (Miyazaki) for the true connoisseur. Each is cooked with the technique that will bring out the unique flavor of the breed and cut of beef. Seafood is another specialty, and it's handled superbly. A deep dive into the appetizers can bring great rewards, from the now-iconic Korean butter-poached crab to the ethereal hamachi sashimi.
Many establishments slip a notch when the name on the door isn't in the house, but not Tris; Simmons has created a well oiled machine. Chef Courtney helms the kitchen in the maestro's absence, and we can't detect any difference at all. That is the mark of an outstanding organization, and Tris exemplifies just how good a restaurant can be with a great team and a creative genius at the helm.
About their Burgers
Burger lovers love Tris. Chef Austin Simmons is serious about burgers; those at Tris are not only a custom grind, but are made from a hybrid breed of cattle that the chef has developed.
The result is a juicy, flavorful burger that is among the very best anywhere. Two smashed patties, bacon jam, and a special English muffin bun come together to create an utterly cravable result.
About Happy Hour
Chef Austin has put together a tightly edited happy hour, offering some of the best food and best values in the Woodlands. Offering both bar and lounge seating, guests enjoy a variety of sharable appetizers, and perhaps the best burger in the Woodlands.
Key Features
Catering
Full Bar
Good Desserts
Good for Vegetarians
Happy Hour
HRW2020
HRW2021
HRW2022
Outdoor Dining
Private Room
Upscale

Location
24 Waterway Avenue | The Woodlands 77380 | Map
281-203-5641
Map | Website | Menu | Order Online
Review
Service
✔
Dine In
✔
Carry Out
✔
Delivery (Restaurant delivers)

Chef: Austin Simmons
GM: Chris Perry