Updated July 2021. Originally published in 2021.)
South-Texas-Style BBQ served from a food truck
Do you like your barbecue with a little kick? Then BBQ Godfather has you covered. Award-winning competition pitmaster Tony Faour brought his South Texas style 'Q to Deacon Baldy's food truck park, and the locals have been lining up ever since. Each meat gets a unique rub, and the perfect sauce is available for those who prefer it. From the delicious pork ribs to spicy brisket, BBQ Godfather offers unique versions of all the Texas BBQ classics. Sides are top notch as well; don't miss the sweet potato casserole or the mac & cheese burnt ends. Sandwiches come on a crusty Italian loaf… just don't call it French bread, or you risk the ire of the Godfather himself.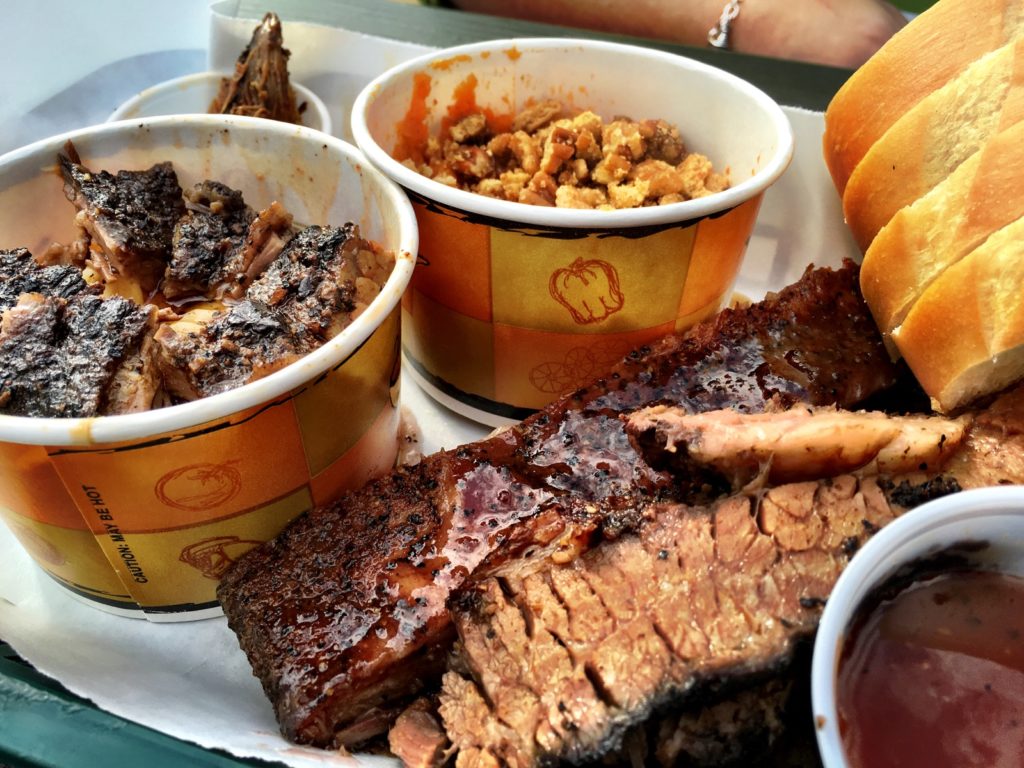 $ and $$ | BBQ
Outdoor Dining
5447 Fm 1488 Rd | Magnolia 77354
713-828-5960 | Map
Full Info | Order Online
A casual, chef-driven steakhouse with a solid wine list
Don't be fooled by the name; this neighborhood steakhouse has offerings that go far beyond burgers, and a sophisticated, well-curated wine list to match. Chef Charlie Watkins (Café Toulouse, Sierra Grill) takes his Inner Loop sensibilities to the Magnolia area, and locals can't get enough of his well-executed, French-influenced cuisine. Appetizers are a particular strength; from the rich and bold Spicy Bacon Plate to the elegantly savory Warm Goat Cheese (with addictive basil tomato coulis), these small plates are perfect with a well-priced bottle of Old World or California wine. The eponymous burgers are thoughtfully conceived, and the house aged steaks are also quite good. Our only issue has been inconsistency as of late, but hopefully that will be addressed.
$$ and $$$ | Burgers and Steaks
Happy Hour and Private Room
4900 Farm to Market Rd 1488 | Conroe 77384
Marcel Town Center, 545 Woodland Square Blvd
936-242-1373 | Map
Full Info | Website
Eclectic Family-Run Cafe
This family-run cafe has been making area diners happy with generous portions of eclectic, home-style cuisine. American favorites, Italian, and Cuban entrees are the highlights.
Owner Ulises Larramendi originally hails from Cuba, and he brings a gentle latin twist to American favorites. Service is friendly and reliable, and the family-friendly environment is filled with diners of all ages.
$$ | American
Private Room
33418 Egypt Ln #16 | Magnolia 77354
832-934-2800 | Map | Review
Full Info | Website
Creative Mexican food and Tex-Mex favorites
The original location of this growing restaurant empire (Julio's Sawdust, Red Flame) is still packing 'em in. They're drawn in by the impressive Mexican and Tex-Mex cuisine, which goes beyond the typical fajitas (although Julio's are outstanding) to superb creations like the El Sabroso (lightly breaded chicken breast covered in a shrimp/poblano cream sauce). The menu is strong from top to bottom – street tacos are a don't miss, and their al pastor may be the best on Houston's north side. Service is friendly and professional.
$$ | Mexican
Happy Hour and Outdoor Dining
33418 Egypt Ln #2759 | Magnolia 77354
281-259-4522 | Map
Full Info | Website
Prime steaks in a comfortable suburban setting.
Serial restauranteur Julio Amer (Julio's Mexican Grill, Julio's Mexican Grill Sawdust) has another hit on his hands with Red Flame Steak & Grill. Brining top-quality steaks to the Magnolia area is an idea long overdue; locals pack in to the beautiful bar and casual dining room to enjoy flame-grilled prime steaks and other enticing entrees. Service is reliable, good wine selection and cocktails.
$$$ | Steaks
7214 Farm to Market Rd 1488 | Magnolia 77354
281-521-5066 | Map
Full Info | Website
Restaurant Listings