Updated August 2021. Originally published in 2021.)
Prime steaks and seafood
🥈 Recommended Steak
Quality service is the draw at the Woodlands outpost of this popular steakhouse chain. The professional staff goes beyond the expected to make every visit special, and they pull out the stops on special occasions. Food is above average steakhouse fare; the tomahawk steak is an impressive favorite.
$$$ and $$$$ | American (Traditional), Seafood, and Steaks
Full Bar, Live Music, Private Room, and Upscale
1201 Lake Woodlands Dr Suite 305 | The Woodlands 77380
281-362-0103 | Map
Full Info
Craveable South African cuisine in a casual, mall-adjacent location
🌟🌟 — Among the best restaurants in the Woodlands area.
🥇 Best Brunch
🥇 Best Burger
🥇 Best Seafood
The popular South African restaurant group travels across the Atlantic and lands in the Woodlands. CEO Ryan Stewart (previously with Peli Peli) brings an intriguing array of grilled meats, seafood, and other dishes designed to please the jaded palate. We think Mozambik hit the sweet spot for creative cuisine in the Woodlands; unique and different offerings (we're drawn to the seafood, the South African Sampler, and the signature Espetadas) but within the wheelhouse of even the most non-adventurous diner. Friendly service. Bright, family-friendly setting.
$$ and $$$ | Brunch, Burgers, Seafood, South African, and Steaks
Brunch, Catering, Full Bar, Good Desserts, Happy Hour, HRW2022, Outdoor Dining, and Private Room
1201 Lake Woodlands Dr Suite 304 | The Woodlands 77380
Outside the Woodlands Mall
855-626-6948 | Map
Full Info | Website
Well-executed burgers, shakes and sandwiches in an airy, modern setting
🥈 Recommended Burger
Danny Meyer's Shake Shack is a decidedly New York approach to a burger joint, and now they've brought their Manhattan sensibilities to the Woodlands. Beneath the slick, polished exterior is a friendly, well-trained staff and a tightly edited menu. So how are the burgers? In a word, excellent. Cooked to order, nicely charred, juicy, and oozing with melty cheese. This isn't a fancy, chef-ed up burger; it's a traditional cheeseburger made with quality ingredients and without shortcuts. Don't want a burger? Chicken and veggie options are also delightful. Danny Meyer is one of the nation's great restaurateurs, and Shake Shack demonstrates what happens when this kind of attention to detail is applied to the humble hamburger.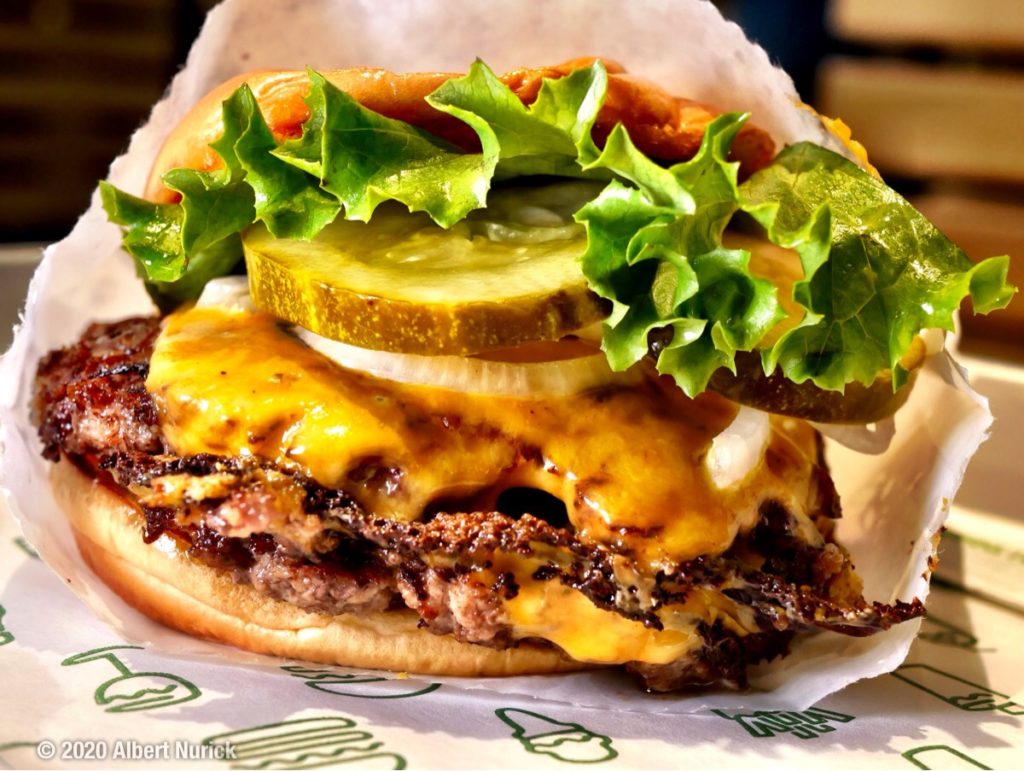 $ | Burgers and Sandwiches
Outdoor Dining
1201 Lake Woodlands Dr., Suite 3034 | The Woodlands 77380
Across from Peli Peli
346-220-4309 | Map
Full Info | Website
---
Restaurant Listings
Mozambik ■ $$ and $$$ ■ Brunch, Burgers, Seafood, South African, and Steaks ■ Woodlands Mall
☎ CALL 🚘 MAP