Does this plucky newcomer on Sawdust live up to its fresh and local billing? We take a look.
Sawdust Road has a lot of restaurants in its numerous strip centers. But with a few notable exceptions, most are either chains, or tired old concepts badly in need of updating. Sawdust is a busy commercial hub right outside the Woodlands, and is ripe ground for exciting new restaurant concepts.
Enter Herb & Beet. No only is its name one of the best puns I've heard lately, it is an interesting new restaurant, targeted at the appetites of hungry Woodlands residents. The location is a standalone building that previously housed a Verizon store; it has been completely renovated. The result is a beautiful building with an inviting patio by the front door.
Herb & Beet was created by founder Josh Lorey, GM E'leece Miner, and Chef Lance Kramer. Chef Lance has an interesting history. He began things right here, but detoured to NYC and LA, picking up the acting bug and performing in several productions. He also finished second in the Great Food Truck Race, earning him connections that would later prove valuable. Chef Lance has a background in barbecue (from his food truck) and he is combining that with an innovative approach to food at Herb & Beet. As you'd imagine from a chef/actor, he's personable and good in the front of the house.
Chef Lance describes their concept:
This concept seems like a natural fit for the Woodlands. Modern, healthy food, served quickly, presented in a comfortable, chic setting. The main dining room is modern, light, and airy, featuring warm woods, plants, and an unusual suspended ceiling adorned with air ferns.
After a quick trip down the serving line, we're seated and our food quickly appears. (Our visit was a pre-opening run-through; the staff was cheery, professional, and well trained.)
The appetizers came first. We sampled some Blistered Shishito Peppers; they were tasty, but not exceptional. Then came out something that caused me to raise an eyebrow: Avocado Beet Toast.
Chef Lance's Avocado Beet Toast is a unique combination of beet hummus(!), sliced avocado, and cotija, served on toasted artisan ciabatta and glazed with a drizzle of very good balsamic.
This dish is delicious, and the flavor profile is like nothing else I've ever tasted. The creamy avocado, the lush earthiness of the beet hummus, and the rich cotija is offset by the sweet sharpness of the balsamic glaze. This is a don't miss dish; I can't wait to devour it again.
Since this was a private preview, a limited menu was in effect. We sampled a couple of the salads. We ended up customizing both of them; one with spinach, corn salsa, and grilled flank steak…
And the second, a Caesar, with crispy chicken and bacon.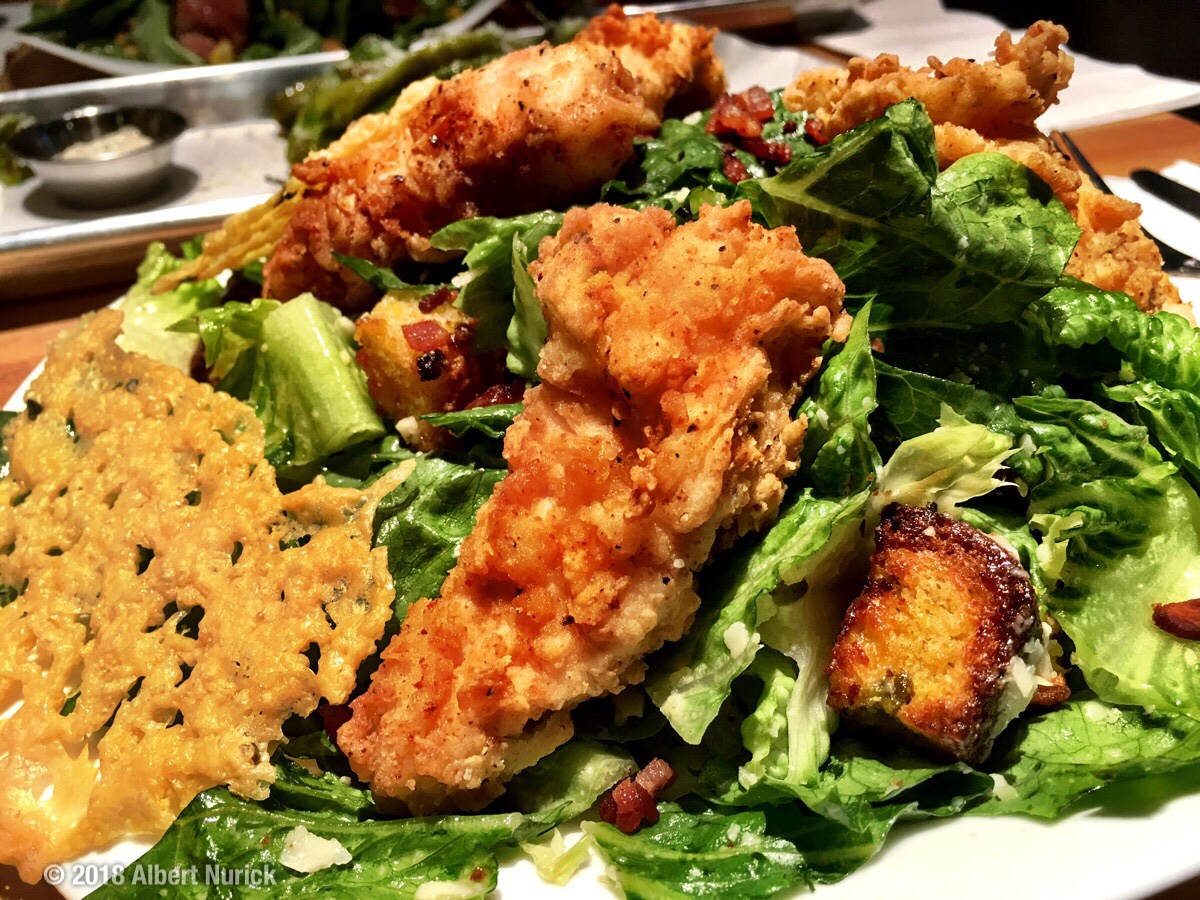 Both salads were extremely good. The greens were garden fresh and crisp, and delightfully cool. The proteins were handled skillfully; delicious slices of mid-rare flank steak, and flavorful, crispy strips of chicken breast.
Notable were the small details. The parmesan crisp on the Caesar was housemade from very good quality parmesan reggiano. The croutons were savory chunks of housemade cornbread. This attention to detail reflects well on Chef Lance and his vision, and his staff's execution.
On the way out, I noticed a slab of smoked brisket being carved. I asked Chef Lance if I could sample it. He sliced off a bit, and provided some of his housemade sauce as well. I've got pretty high standards for barbecue; I was curious to see how this 'Q stacked up against the big guns around here, Corkscrew BBQ, Tejas Chocolate & Barbecue, and BBQ Godfather.
I started to slice off a bit, and quickly realized no knife was necessary… a good sign. The fat wasn't completely rendered; the chef mentioned that it had come off the pit early. I appreciated his candor, and braced myself for the worst.
The first bite was juicy, smoky, and carried a rich beefy swagger. This is serious brisket. Sampling the sauce (Yes, I know. Heresy. The sacrifices I make for you guys.) revealed a tangy, complex creation that was spicy, had a hint of sweetness, and wonderfully accented the meat. Chef Lance is serious about barbecue; his brisket holds its own against the heavy hitters.
To say we enjoyed Herb & Beet is an understatement. A talented and engaging chef has created a new concept that offers healthy food created from fresh, quality ingredients. The result is well conceived, well prepared, and delicious. We look forward to returning to Herb & Beet and sampling more of Chef Lance's creations.
Fresh and Healthy
American, BBQ, Salads, and Sandwiches | Sawdust
Good for Vegetarians and Outdoor Dining
448 Sawdust Road | The Woodlands 77380
at Budde
832-791-2338 | Map | Website | Review | Details
$$