This casually ambitious Italian eatery bursts onto the Woodlands Waterway scene with a playful approach to Italian dining.
Ever since the Westin closed Current, we've been anxiously waiting to discover the new occupant of that beautiful space. Overlooking both the Waterway and Waterway Square, the dining room at the Westin is one of the Woodlands' most scenic locations.
We were excited to be contacted by their management team and offered a sneak preview of the new concept, Sorriso Modern Italian Kitchen. After extensive research, the Howard Hughes Corporation decided on a modern Italian concept, and tapped Chef Enzo Fargione to helm the kitchen.
Chef Enzo Fargione
Chef Enzo has over 30 years experience on the East Coast perfecting his playful take on modern Italian cooking. Born and raised in Turin (the capital of northern Italy's Piedmont region), he turned a love of cooking into a career, first by attending the Culinary Institute of Turn at age 14, finishing at the top of his class. He worked in local restaurants before becoming Chef de Cuisine at Roberto Donna's Galileo in Washington, DC. He later earned recognition as chef and operating partner at Barolo, Teatro, Goldoni, ELISIR and Osteria Elisir, all in DC.
When we entered the glass-walled room via the dramatic new entrance, we were immediately taken by how the space had been redesigned. Gone was the sterile, architectural cathedral that defined Current. The new space was completely different and far more inviting. Mid-Century Modern has been gently softened with an eclectic mix of furnishings, and the result is both modern and inviting. Walls have been moved, and both the public spaces and the private rooms seem both more functional and more welcoming. (Sorriso is still finalizing some details of the furnishings and fixtures ahead of the January 9th opening date.)
But what about the food? We sampled a tremendous variety of appetizers, pizzas, and desserts. Here are our initial impressions, keeping in mind that many things can change in the week and a half before the opening.
Bread Service
Our first impression was formed from the bread basket. A small basket of housemate focaccia appeared. The bread was fragrant and flavorful; clearly it was a labor of love. But what impressed even more were the accompaniments to it.
The first accompaniment was a selection of housemade salts. Three different styles. One enhanced with olive, one with red wine, one with basil. To be used only sparingly, each added a unique blast of flavor to the already memorable bread.
.
We were also provided with a variety of savory spreads. Chickpeas with black peppercorns. Buffalo ricotta with garlic, lemon, and rosemary. Green olive with basil and lemon.  Sicilian caponata of eggplant, olives, tomatoes, and capers. Stewed Borlotti beans with pecorino and fennel pollen. Each unique and very tasty. This bread service would be a wonderful accompaniment to a cocktail; we enjoyed it with wines carefully selected by sommelier Giorgio Ferrero, a charming man who knows his wine. I enjoyed a deliciously bold and smooth Brunello di Montalcino; my companion Susan, who loves sweet wines, loved her Hungarian Tokaji Aszu, in this case, one with 6 puttonyos; one of the sweetest varieties.
Shared plates were the theme of tonight's tasting, and are an integral part of the Sorriso experience. Chef Enzo's menu is based around the idea of sharing, which was a great way to sample such a variety of dishes.
Pizza
Next, we sampled several pizzas: A classic margherita, a white pizza featuring onions and roasted portobellos, and pesto pizza with eggplant, goat cheese and fingerling potatoes.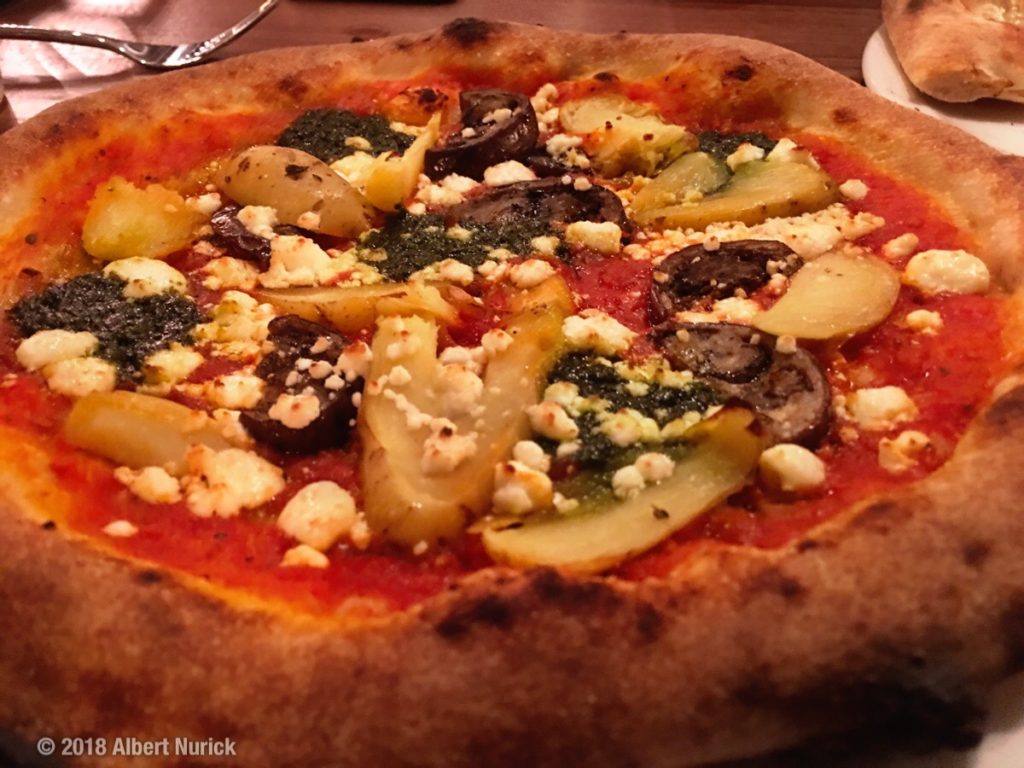 Each was personal sized, cut into quarters (or available uncut, to be torn, in the Italian style) and featured a beautifully charred crust. These Neapolitan-Style pizzas are cooked quickly in the restaurant's brand new brick oven; pizza lovers now have a source for traditional Neopolitan pizza in the Woodlands.
Charcuterie
Charcuterie is always a great option for sharing. Sorriso presented a beautiful offering of 24 month aged prosciutto di Parma, sopressata, speck, and coppa. These Italian meats were interspersed with gorgonzola, taleggio, and fontina d'Aosta cheeses.
Other Appetizers
We devoured several other appetizers; most notable was the buffalo burrata, enrobed in shaved prosciutto de Parma, and presented with pesto, roasted portobello, and cherry tomatoes.
We also enjoyed Chef Enzo's spin on the appetizer of the moment, arancini balls. This version was filled with a risotto of rice, taleggio cheese, and shaved mushrooms, and floated over a red pepper fondue.
Desserts
Chef Enzo wasn't going to let us leave without trying a sampling of his desserts. The well-priced desert menu includes many traditional favorites, but are typically executed with a unique or playful spin. One favorite was the Olive Oil cake, layered with orange curd, and white chocolate mousse. Served along side is pistachio gelato, and uniquely, Greek yogurt. Chef explained that the yogurt was to help reset the palate between bites; it totally changed the experience of the dish. Conclusion: If a chef suggests a certain way to eat a dish, listen to him.
We were blown away by the presentation of the pannacotta. The presentation looked like a pair of sunny-side-up eggs, with a side of virtual bacon. The pannacotta was lush, creamy, and sweet without being cloying; the "egg yolks" were an utter surprise which I won't spoil. Be sure to try this when you visit Sorriso.
Our Takeaway
Our conversation with upper management of Sorriso made it obvious that they're looking beyond creating just another hotel restaurant. Sorriso is viewed as a vibrant member of the Woodlands community, and hopes to attract locals as well as hotel guests. The inviting, fun atmosphere and promising food look like a great step in that direction. Sorriso isn't a typical hotel restaurant, and Chef Enzo certainly isn't a typical hotel chef.
In the past, we decried the lack of good Italian food in the Woodlands area. What we had were either tired concepts or national chains. But new restaurants like Nona's, Papa Amadeus, and now Sorriso are driving a renaissance in Italian dining in the Woodlands, and at a surprisingly attractive price point. There's never been a better time to be a foodie in the Woodlands.
We look forward to returning to Sorriso and sampling more of this intriguing menu.
Modern Italian in a chic hotel setting
Brunch, Italian, and Pizza | Waterway
Full Bar, Happy Hour, Outdoor Dining, Private Room, Romantic, Scenic View, and Upscale
2 Waterway Square Place | The Woodlands 77380
In the Westin Waterway hotel
281-419-4300 | Map | Website | Review | Details
$$ and $$$