(Update: We've checked out more of the menu.)
(Last summer we broke the story about Xalisko coming to the Woodlands. Now we've got details.)
We have a lot of restaurant openings in the Woodlands, but only a few that create buzz all over the Houston area. Tris, Amrina, and Fielding's Local are three local restaurants that win awards across the region, and we predict a fourth is about to join their stratospheric ranks.
Xalisko is a new Mexican restaurant, inconspicuously located on the ring road of the Woodlands Mall, on the north side next to Verizon. In this humble location lies one of the most intriguing restaurants to open in a long time.
Xalisko's mission is to serve authentic Mexican food of the highest quality (remember those words) with a modern twist. The menu is a culinary tour of Mexico, focused on the Pacific Coast (Nayarit, Jalisco, Colima and Michoacan.) An adventurous spirits and wine program is part of the concept.
It all starts with the team. At the helm is Chef Beatriz Martines, who has a formidable history of creating Mexican food of the highest quality.
(This isn't Tex-Mex, folks. This is world class Mexican cuisine, created by a chef who could lead any restaurant in the nation.)
Lots of chefs make big claims. Chef Beatriz has a resume that backs it up.
From School Lunch Lady to Can Roca to a James Beard Kitchen
Where did she start in the culinary world? As a lunch lady in the Cy-Fair School district. Realizing that more was in her future, she applied to and was accepted to culinary school at the Art Institute of Houston
After attending culinary school, she operated her own catering business.
While catering, she was discovered and was hired by La Fisheria Restaurant, working under Mexican celebrity chef Aquiles Chavez. Her talents were immediately recognized; she moved up to the sous chef position after starting as a line cook.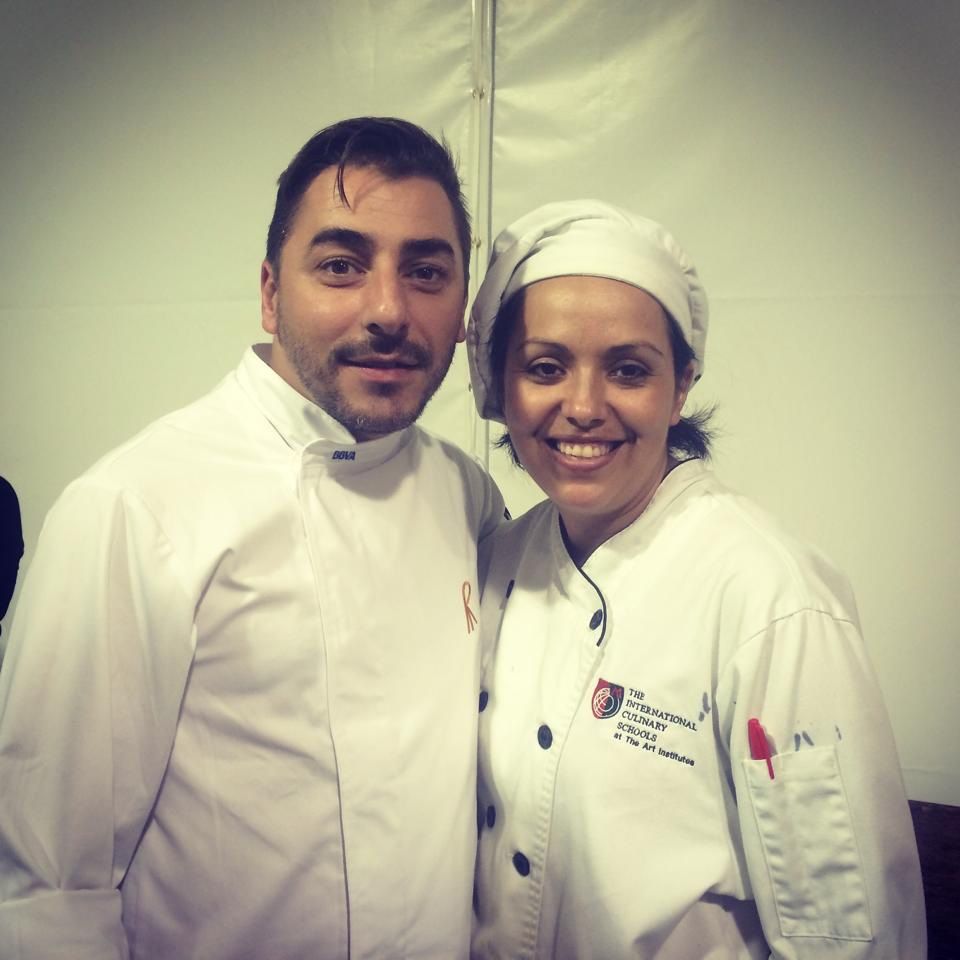 A huge opportunity arose, and she seized it. She was chosen to apprentice at El Celler de Can Roca, in Girona, Spain, which is considered by many to be the among the finest restaurants in the world. She worked with Joan and Jordi Roca, moving quickly up the ladder. She was ultimately put in charge of her area, an astonishing feat for an apprentice at a world class restaurant. There she ran into a chef from Houston who dabbled in Mexican food… Hugo Ortega. He offered her a full time position.
Chef Beatriz worked for nearly a decade with Hugo Ortega, the James Beard Award winning chef who is the dean of Mexican food in Houston. Chef Beatriz rose to the level of Corporate Chef, where she was tasked with working at Hugo's right hand, creating new dishes for all of his H-Town Restaurant Group restaurants (Hugo's, Caracol, Xochi (which she opened), Urbe, and more.)
With this formidable background, Chef Beatriz knew it was time to open her own restaurant. She put together an accomplished team.
Jesus Cruz Velazquez – Sommelier.
Pablo Cordoba – Mixologist.
Juan Martines – Operations.
Enter Xalisko
After gaining experience alongside several of the best chefs in the world, it was time to set out on her own. Working with husband Juan Martines, they located a spot in the Woodlands, an area they had targeted as a great opportunity for a world class Mexican restaurant. Juan brings a wide background to the restaurant operations, and has been instrumental in managing the hundreds of individual projects which must be completed before a restaurant can open.
Xalisko refers to the state of Jalisco, homeland of Chef Beatriz. Even the restaurant's logo was inspired by the chef's memory of her father.
In her words: "Travel immediately to the roots of exquisite Mexican gastronomy through the rich and bold flavors authentic corn, chiles, agave, cacao beans bring within Xalisko fare. Reverent to the traditional cooking style of our ancestors, your palate will delight as every dish engrained with fresh ingredients and dedicated techniques, with an extensive wine and cocktail menu. The myriad of your culinary experience is endless at Xalisko Cocina Mexicana."
The Food
Xalisko is a chef-driven restaurant that will offer a wide variety of authentic Mexican cuisine dishes with a contemporary touch. The menu is a culinary tour along Mexico, merging traditional family recipes and modern cooking techniques. Chef Beatriz describes some of her planned dishes:
ANTOJITOS DE MERCADO — "Fresh and dried corn will take a big role in our menu, honoring my father's favorite corn dishes, from esquites to tamales de elote, corn soups like pozolillo verde, and hand made corn tortillas" says Chef Beatriz.
Bone Marrow Xquites; Jalisco style esquites served over roasted bone marrow, chile caribe aioli, dried peppers sauce
Tamal de Elote – fresh corn tamal, corn cream, cojija cheese, corn husk ash
ANTOJITOS DEL MAR — "I am a ceviche aficionada. You will always find new ceviche creations in our menu" she adds
Ceviche Tatemado– lime cured striped bass, pickled red onion pearls, toasted dried peppers sauce, cherry tomatoes
Ostiones Zarandiados – roasted oysters marinated with dry peppers creamy sauce
PLATOS FUERTES — "This is my grandmother's recipe. This dish is very special because it brings me great childhood memories. It's made the same way we make it back home" says the chef.
Birria Tatemada: grandmother's recipe, beef marinated with dried peppers adobo sauce, slow cooked wrapped in agave leaves
TROMPITO AL PASTOR: vertical rotating spit of pork meat marinated with pastor adobo, salsa, fresh corn tortillas.
The attention to detail at this establishment is remarkable. Not only are the tortillas made in house, but the corn is ground in house in an imported molinito, from no less than four different varieties of Mexican heirloom arroz (corn). Different tortillas will pair best with different dishes, and Chef Beatriz isn't going to compromise by making just a single tortilla from commercially available corn.
Beverage Program
Jesus Cruz Velazquez has assembled a formidable wine list that goes far beyond what is expected, even in a fine dining establishment. Along side award winning wines from California, France, Italy, and Spain, Jesus has selected outstanding bottles from Mexico and other parts of Latin America. Each vintage was selected to pair with the chef's cuisine.
Cocktail fans are not left out. Pablo Cordoba has brought together a tremendous selection of top shelf liquors, with a focus on tequila and mezcal, and has crafted cocktails which will surprise and delight guests.
Our Tasting
We attended a pre-opening tasting when Chef Beatriz was testing her recipes (and her sparkling new kitchen equipment.) The centerpiece of the tasting is something we've never seen before… a personal trompo from which Tacos Al Pastor can be carved tableside.
Chef Beatriz personally carved the trompo for us, and constructed tacos with freshly made tortillas. In short, this was a revelation. Tacos al pastor is one of my favorite dishes, and it's truly rare to find a memorable version in Houston. This version was nothing short of superb; pork, adobo, and pineapple flavors balanced by the freshly cut onion and cilantro, accented by two sauces that the chef had created. The tacos were delicious on their own without the sauces, but the sauces elevated the tacos to the next level, and worked either alone or together. Tacos al pastor are perhaps the iconic Mexico City dish, and Chef Beatriz demonstrated a mastery of this dish that we've never experienced before.
Chef Beatriz also had a dessert for us to sample; her coconut tres leches. It was another knockout; soft, incredibly moist, with the flavors of the milks contrasting with the earthy coconut and a hint of tangy pomegranate.
We look forward to sampling more of Chef Beatriz's cuisine when the restaurant opens in mid-February. Until then, we will be dreaming of her tacos.
Destination Mexican Dining from an accomplished team
Mexican | Woodlands Mall
Catering, Family-Run Small Business, Full Bar, Good Desserts, Happy Hour, HRW2023, On the Radar, Private Room, Romantic, and Upscale
1335 Lake Woodlands Dr | The Woodlands 77380
281-323-4092 | Map | Review | Details
$$$