Chef Austin Simmons has reimagined his flagship restaurant. The result is both more personal and more versatile, with distinct concepts for lunch and dinner.
Chef Austin Simmons is a man on a mission. I first met Chef Austin in 2010 when he was John Tesar's sous chef at Tesar's Modern in the Woodlands, Texas. John had just departed the restaurant, and Austin impressed me with how he took the helm and skillfully guided Tesar's after the master left, proving his years of working with Chef Tesar had paid off handsomely. Clearly, this was a young chef with talent, ambition, and the ability to take the reins.
Fast foward a few years, and Chef Austin had moved to Hubbell & Hudson Bistro, rocketing through the ranks to become executive chef. He elevated the cuisine, picking up accolades along the way. His restaurant was named one of the best in Houston, the best in the Woodlands, and most recently won the prestigious 2018 Truffle Masters competition, beating a slew of talented chefs including James Beard award winners.
Hubbell & Hudson Bistro had spawned a restaurant within a restaurant called Cureight, which specializes in eight-course tasting menus. This smaller venue allows Chef Austin and his talented team to explore some outside-the-box dishes, delighting foodies and becoming the destination restaurant in the Woodlands.
One thing you quickly learn about Austin Simmons: He's never satisfied with what he has accomplished. Realizing that a great restaurant needs outstanding service as well as great food, he hired guest whisperer Chris Perry (who opened Robard's Steak House, and as General Manager built it into the Woodlands best steakhouse) to polish the service and run the front of the house.
We'd heard rumblings that some big changes were in the works, and after months of speculation, they rolled out their new concept: TRIS, which takes its name from Chef Austin's lovely daughter.
Amazingly, the restaurant was transformed in less than two weeks. Contractors were working around the clock to rip out the old banquettes and booths, and convert the dining room into an open airy space. Perry trained the service staff on the elevated expectations he has for his team. Chef Austin (along with Chef de Cuisine Cortney Taraboi and Executive Sous Chef Brian Stanek) finalized and polished the all-new menu, which by design has something of a split personality.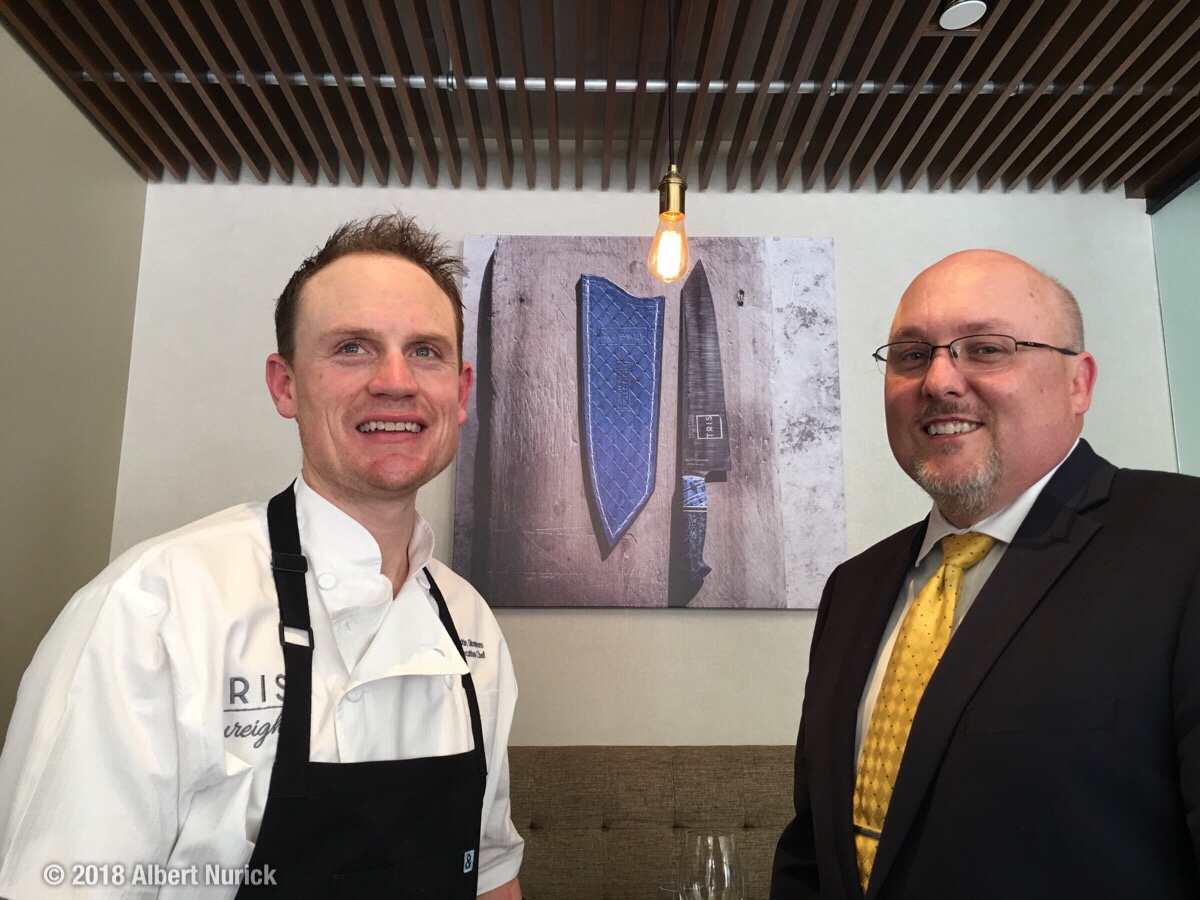 One Restaurant. Two Concepts
Realizing the varied needs of the Woodland community, Austin and Chris gave TRIS two distinct personalities.
By day, TRIS is a casual spot, serving a menu of classic crowd pleasers and some unexpected options. Chef Austin is not one to put boring recipes on the plate, so his versions of these dishes feature distinctive touches that aren't typically found.
By night, TRIS gets dressed up. White tablecloths come out, and the staff has a bit more starch in their collars. The kitchen ups its game even further, with a mix of reimagined classics and some of Chef Austin's more exotic creations.
Lunch – Casual, with Elevated Cuisine
We arrived for lunch, and were seated in a sunny spot where we could survey the room. Perusing the tightly edited menu, we zeroed in on what we'd try first.
We started with the Philly Cheese Steak. Mystery meat is replaced with razor-sliced prime ribeye, phenomenally tender and piled atop a fresh hoagie roll. House cheese sauce, grilled onions, shallots, and red peppers complete the creation.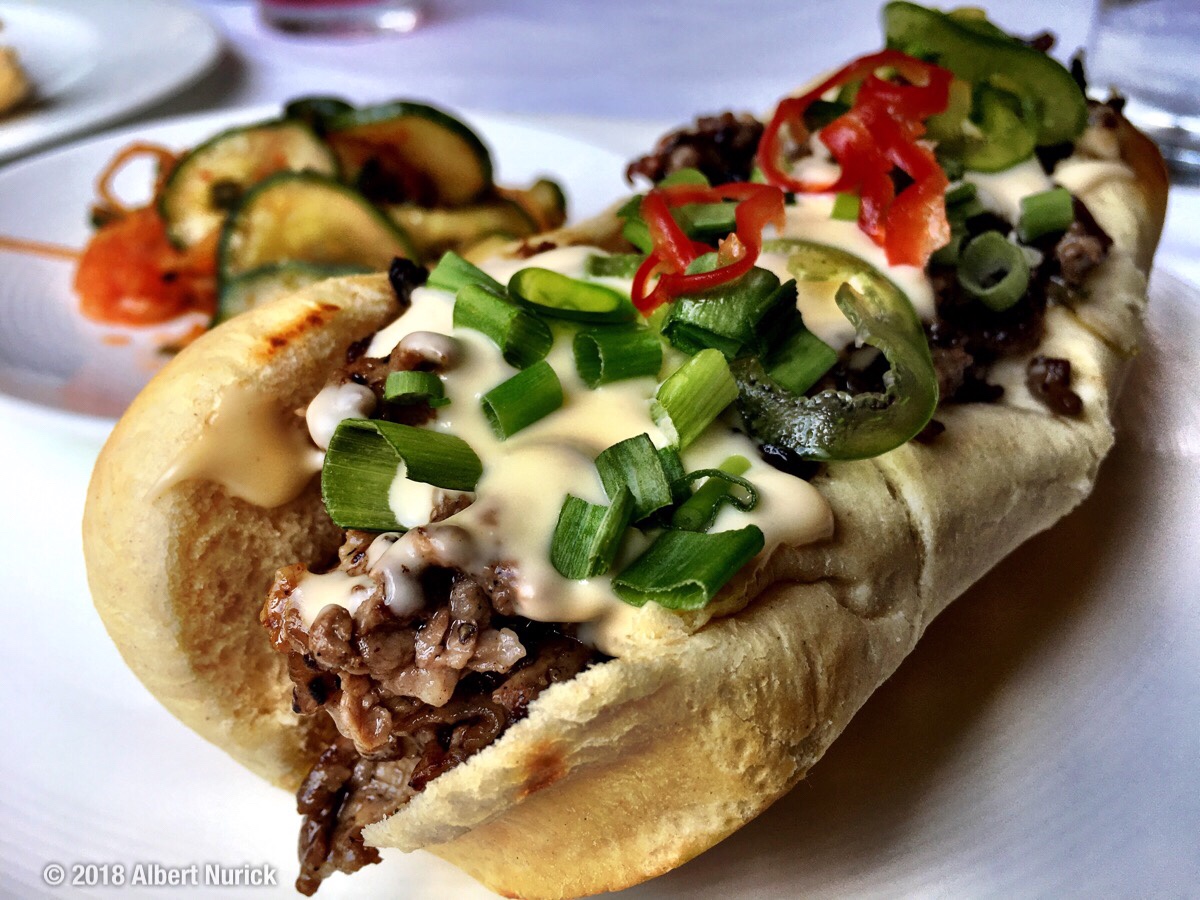 This is not your Uncle Larry's cheesesteak. The rich flavor of the tender, marinated beef is enhanced by the silky smooth cheese sauce and the tangy vegetables. You're never going to be satisfied by Cheez Whiz again after devouring this sandwich.
Next up was the Texas classic: Chicken Fried Steak. High-quality beef is pounded thin, then hand-breaded with a gently seasoned breading. Béchamel gravy, Yukon mashed potatoes with caramelized cheese, and huge asparagus complete the dish.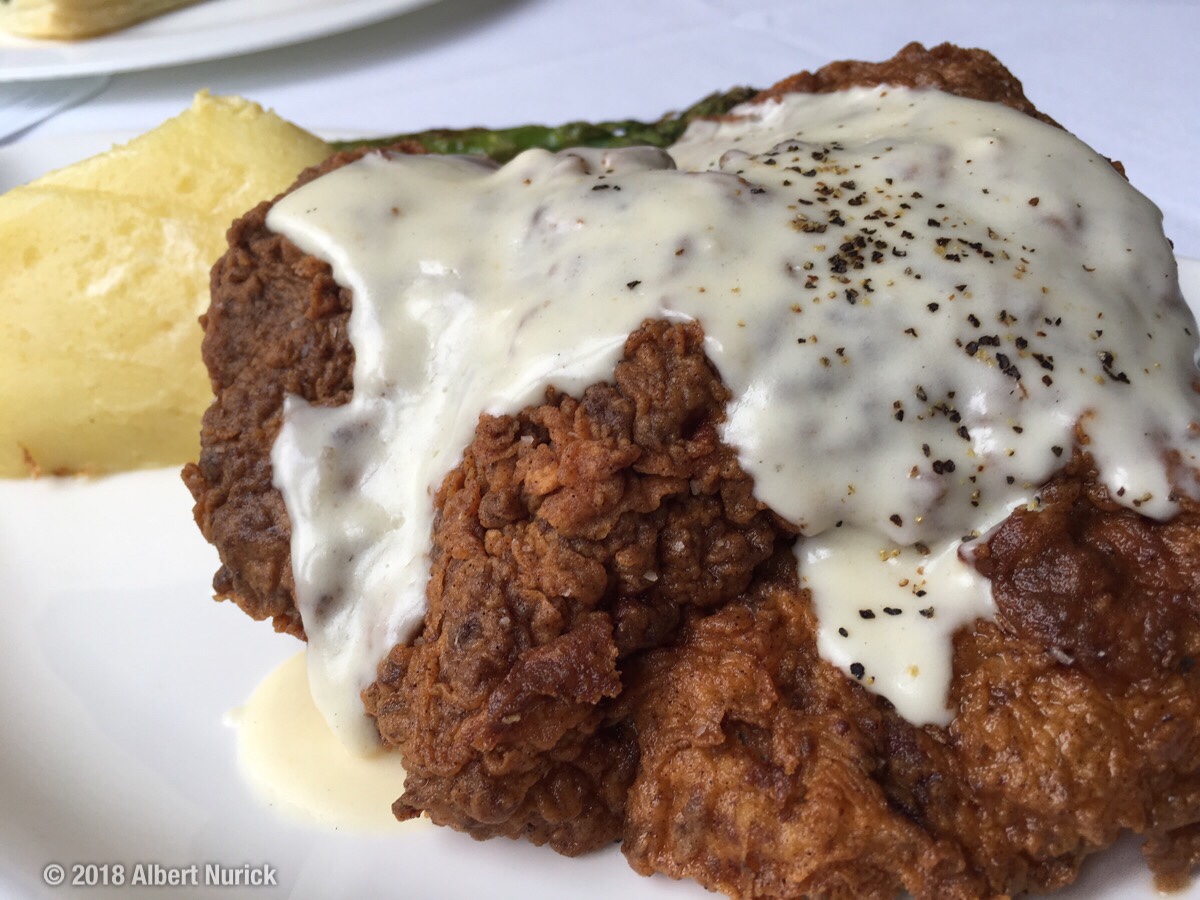 The result is an elevated version of this Texas favorite. The sassy béchamel is an upscale version of the de riguer cream gravy, and it pairs masterfully with the moist, tender beef and the snappy crust. The mash has a sweet, soulful undertone from the caramelized cheese, and the perfectly cooked asparagus demonstrates a deft touch.
Our dining companion was in the mood for something light, so we selected the Avocado Tart. What appeared was stunning.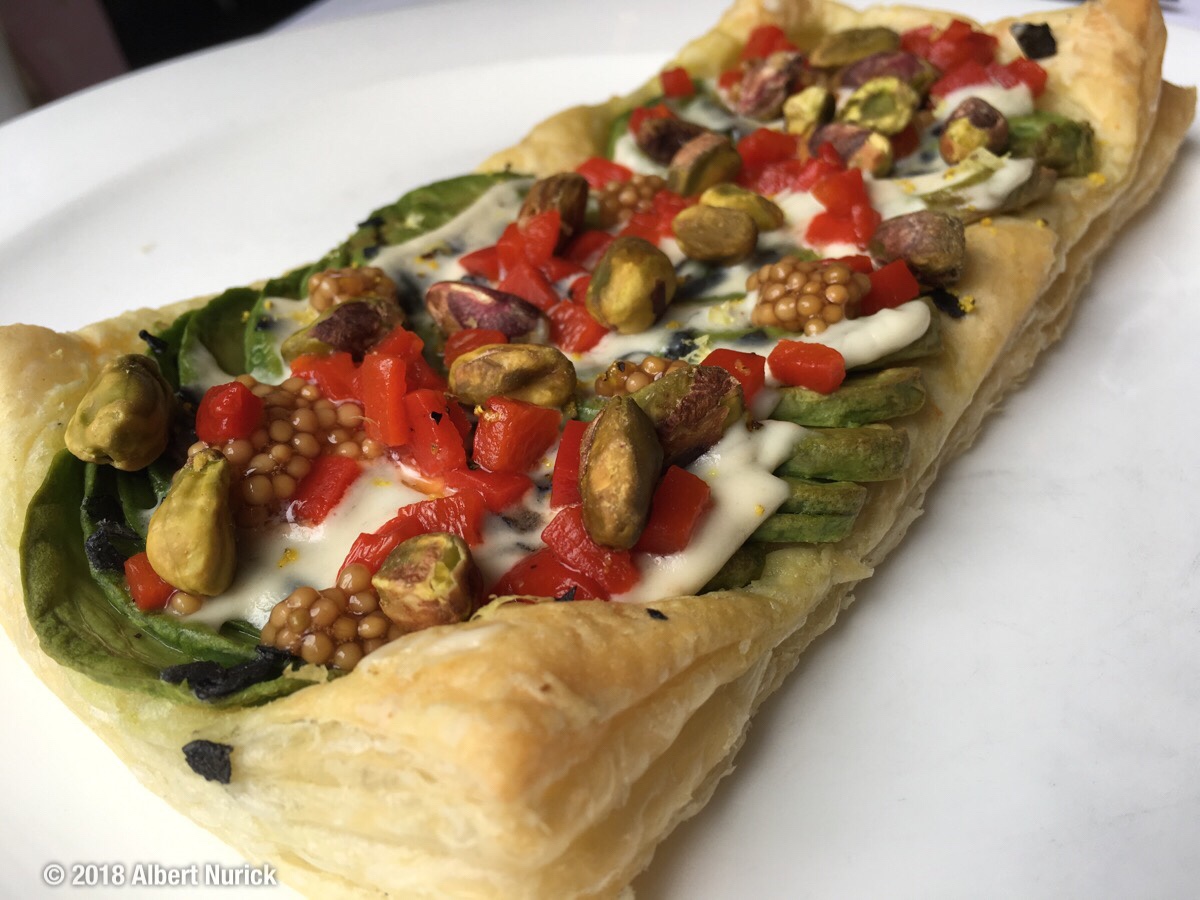 An etherial puff pastry was paved with thin slices of an entire avocado. vegan cashew cheese, chopped piquillo peppers, pistachios, and pickled mustard seed (almost a mustard caviar) completed this jewel-like creation. The result was delicious, and perfect for vegetarians… or anyone else who wants something light and delicious.
A lunch menu isn't complete without soup. Eschewing something simple, Chef Austin presented his Tonkatsu Miso Ramen. We were a little skeptical; we've not found great ramen outside of a dedicated ramen shop, or at the hands of a experienced master like Chef Manabu Horiuchi of Kata Robata. Will this difficult dish prove to be the undoing of the talented chef?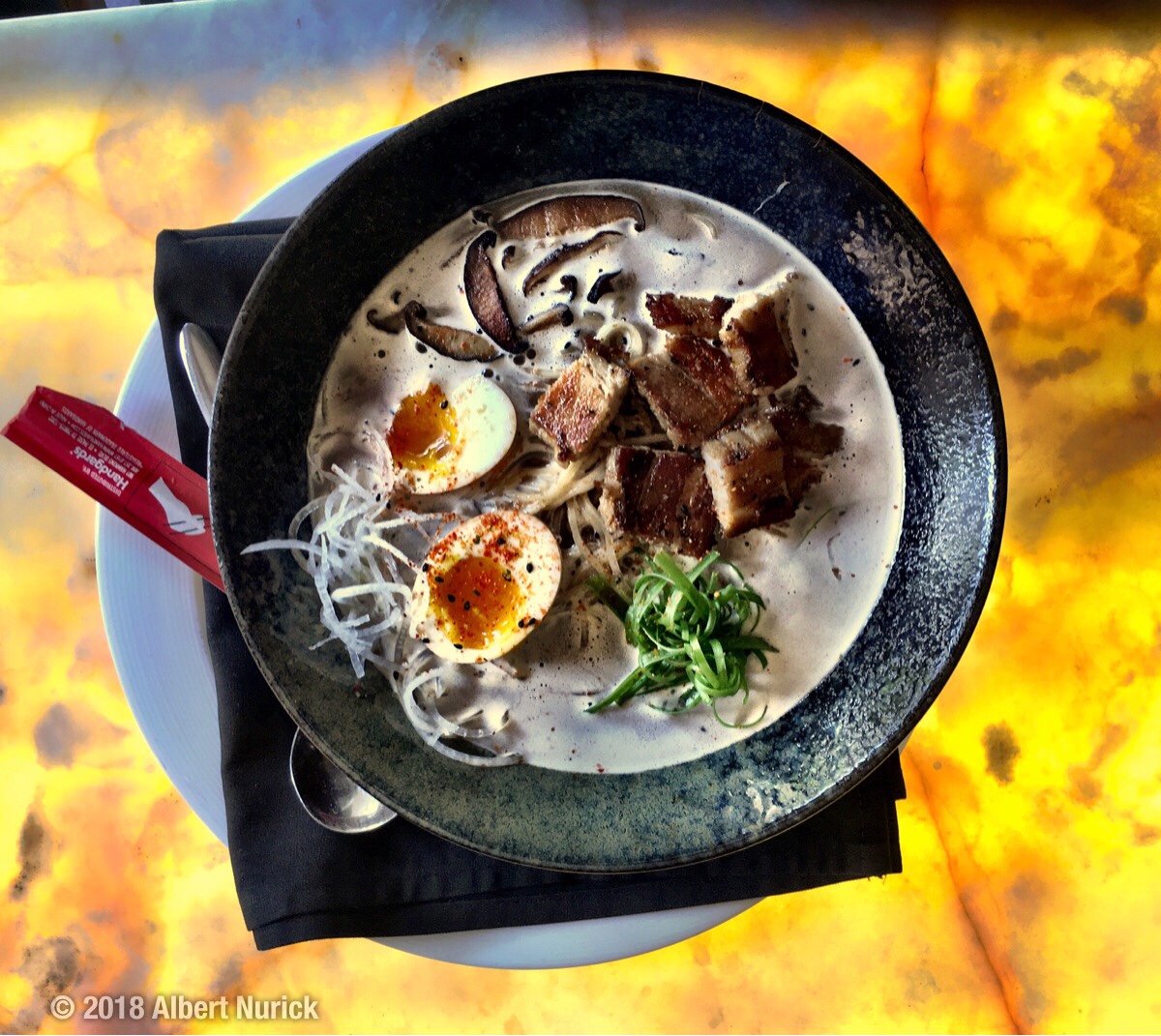 Never attack Russia in the winter. And never bet against Austin Simmons. Chef Austin's ramen hits all the classic notes, but was gently lightened for the lunch crowd. Artisan noodles (imported from Sun Noodle, the benchmark) are topped with planed mushrooms, green onion, smoky grilled pork belly, and sous vide eggs, then bathed in the 48-hour tonkotsu-miso broth. The result is soulful (without being cloyingly heavy,) flavorful, and memorable. This is real ramen, with Chef Austin's distinct signature clearly evident. He apparently picked up a thing or two on his recent food tour of Japan.
Dinner – TRIS Dresses to Impress
Returning a few hours later for dinner (oh, the sacrifices we make for you), we were welcomed into a totally different restaurant. The lights were dimmed, the white tablecloths were out, and the place settings were noticeably more formal. The menu had been replaced as well, and the staff's demeanor was a bit more polished. The menu had expanded, and taken a noticeable turn toward France… but with Chef Austin's signature Asian touches well represented.
Our eyes were immediate drawn to the foie gras, a popular luxury ingredient that is easy to mishandle. But we had faith in the kitchen at Tris.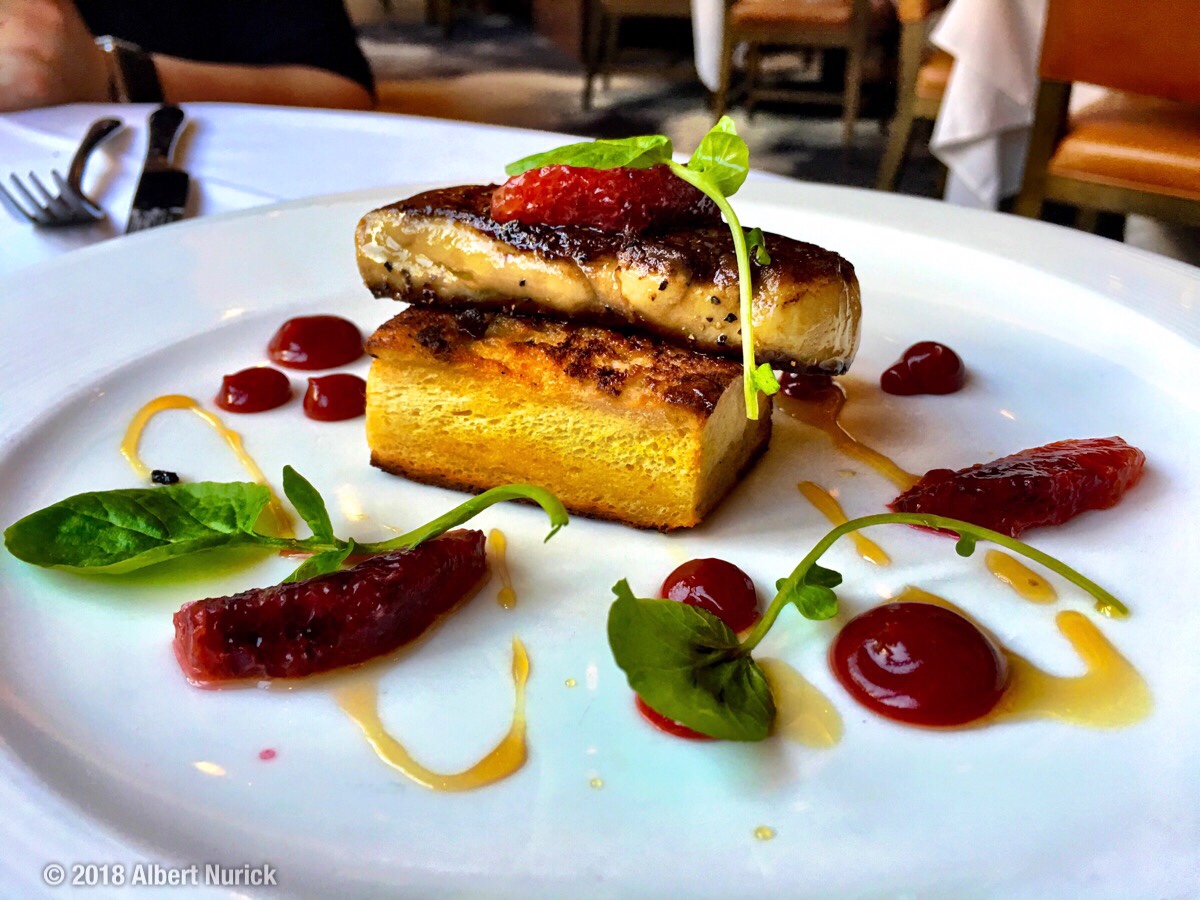 What appeared was an artful example of attention to detail. House made brioche was crowned with a slab of decadently rich foie, accented with blood orange, honey, and hints of truffle. The result was indulgent and delicious… the sweetness of the brioche and honey, and the tang of the blood orange offset the richness of the foie were in a beautiful balance. Easily one of the best renditions of this dish we've sampled.
As a contrast to a rich dish like foie gras, we chose the intriguing Hamachi Tostada as another appetizer. The blue corn tostada was layered with a generous portion of thickly sliced hamachi, shreds of cabbage, shaved onions, and slices of serrano peppers, glazed with a tangy Thai vinaigrette. This dish was bright, fresh, and delicious, a tribute to Chef Austin's mastery of Asian flavors.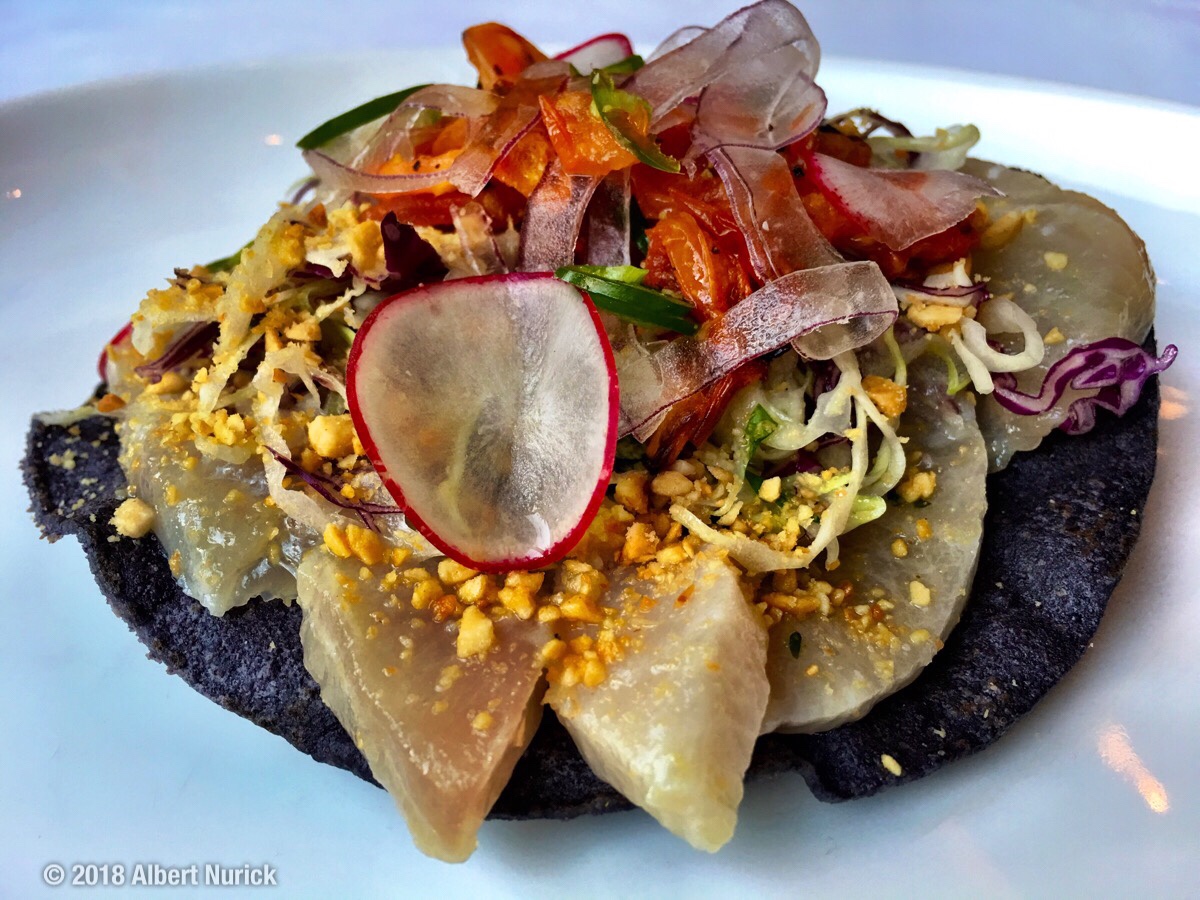 Now it was time for the entrees. We decided to sample from the land and the sea. We started with the 1855 Ribeye, a sliced, bone-in presentation of wet aged super prime beef.
Barely mid-rare (as requested,) it was deftly prepared, served with parsnip puree and a mound of flaky sea salt. The spectacularly charred beef had the subtle flavor of charcoal, and had a bold, beefy swagger. Easily one of the most memorable steaks I've eaten; I now have a favorite steakhouse very close to home.
On a more aquatic note, we jumped on the chance to order a classic we'd not seen on a restaurant menu in years: Lobster Thermador. This classic French creation (Escoffier first served it) is often considered the true test of a classic French kitchen.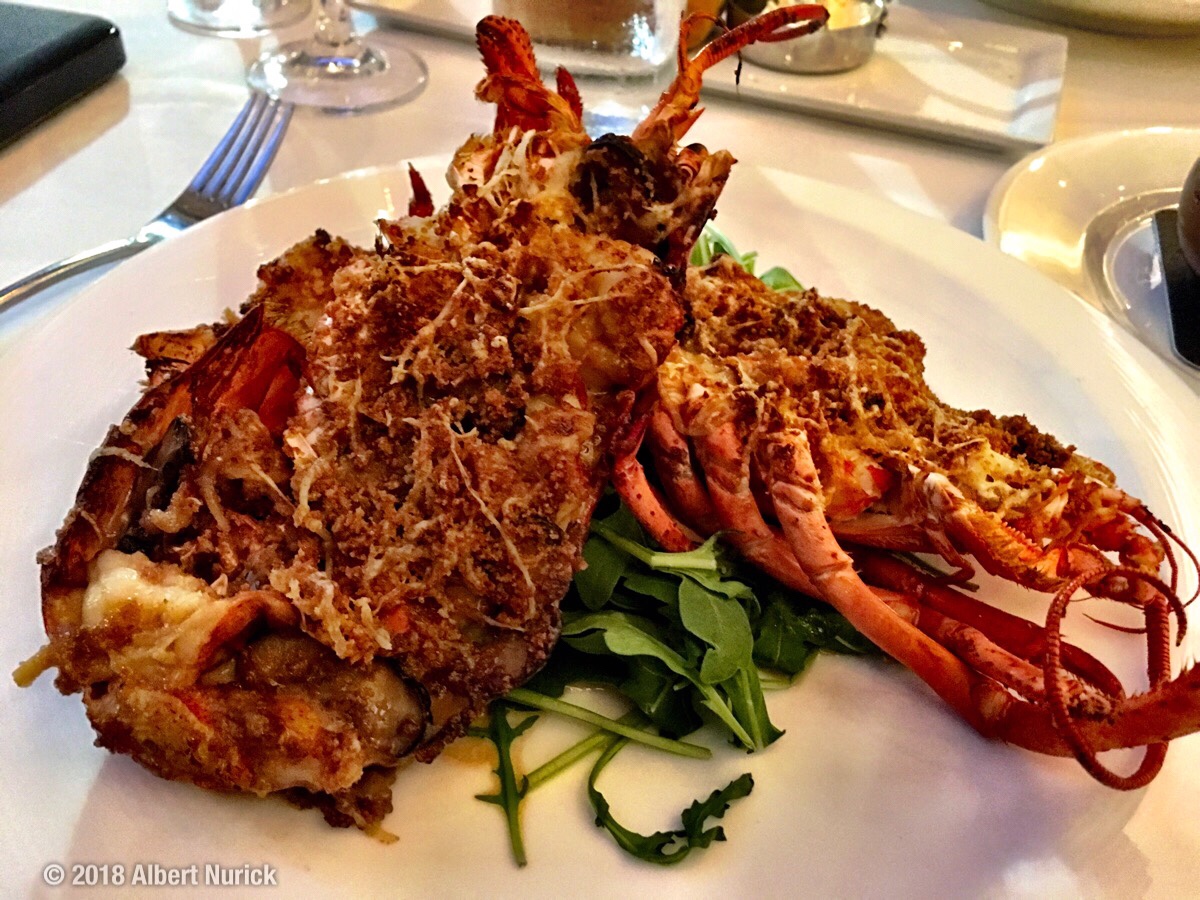 This is precisely the kind of challenging dish that Chef Austin executes so well. Huge chunks of lobster were removed from the shell, cooked, and glazed with a sublime cognac lobster creme, then combined with razored shiitake mushrooms and topped with a light crown of  freshly grated parmesan-reggiano. The result is a superlative, utterly decadent creation that every foodie has to order at least once. The tender, moist flavorful lobster meat is glazed with the cognac lobster cream, creating a bite that is perhaps the ultimate indulgence.
After this remarkable degustation, we wanted to wrap things up on a sweet note. The dessert menu was full of intriguing options, but one classic choice stood out: The signature TRIS chocolate cake.
The generous wedge of deliciousness was a revelation. The thick, glossy chocolate enrobing locked in moisture and flavor of the riotous chocolate cake, its layers divided by a schmear of caramel buttercream and salt. This simple but masterfully executed cake is destined to become famous; it embodies everything we love about cake but rarely end up tasting. An outstanding finish to an extraordinary meal.
Throughout the adventure the TRIS staff provided excellent advice and service; Chris Perry as been teaching them well. We look forward to returning again to sample more of Chef Austin's creations. It is exciting to have watched the enthusiastic young sous chef land in his own restaurant, expand his already formidable skills, rise to the top, and execute his vision on such an extraordinarily high level.
I can't wait to see what he comes up with next.
Raising the bar for dining in the Woodlands
American (New), Burgers, Seafood, and Steaks | Waterway
Catering, Full Bar, Good Desserts, Good for Vegetarians, Happy Hour, HRW2020, HRW2021, HRW2022, HRW2023, Outdoor Dining, Private Room, and Upscale
24 Waterway Avenue | The Woodlands 77380
281-203-5641 | Map | Website | Review | Details
$$$ and $$$$